Mayor Mollaun joined Eagle Country 99.3's Bubba Bo on air Wednesday morning.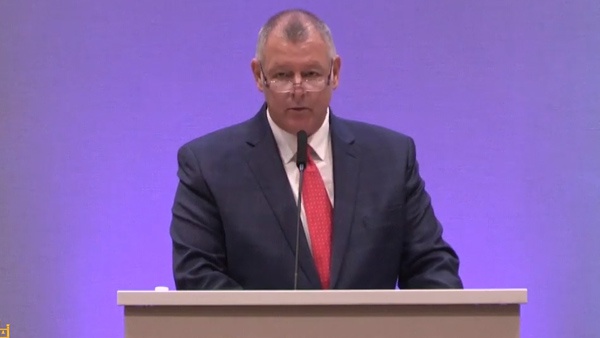 (Lawrenceburg, Ind.) - We are a week away from Lawrenceburg Mayor Kelly Mollaun's State of the City Address.
The annual speech will begin at 1:00 p.m. on Wednesday, February 12 at the Lawrenceburg Event Center. The event is free to attend.
Mayor Mollaun stopped by Eagle Country 99.3 Wednesday morning to preview his speech.
"One thing I've learned over four years is try to say a lot in a little bit of time," said Mollaun. "I think the first State of the City Address, I rambled on for 45 minutes. It's easy to talk about things you enjoy and believe in. Last year, we did a good thing and narrowed it down to 20 minutes."
Community members should expect much of the same this year. A 20-minute speech highlighting how the City of Lawrenceburg is doing and plans for the future.
Mayor Mollaun didn't go into much detail about plans for the future but he did speak about his desire to get a deal done to bring the state's Fourth Port to Lawrenceburg.
"I'm counting on this Port to come to fruition," said Mollaun.
Still there is much to be done in terms of environmental studies and cleanup at the former Tanners Creek Power Plant site.
"The last thing I want to do is for the state to take over a piece of property that isn't ready to be taken over. I want the cleanup to be done correctly too. People are wanting an announcement done and made down here, as well as I do. You talk about growth and good paying jobs that has an opportunity to be a generational economic driver."
Mollaun also touted his new council members Justin Noppert, Thomas Rowlett Sr., Lennie Fryman and Brett Bondurant and new clerk treasurer Mark Fette for hitting the ground running.
"We've got four out of five new council people and a new clerk treasurer. One thing I'm excited about is this new council spent three days up in Indianapolis last week for the newly elected officials conference put on by AIM. And what it is, is an opportunity for these guys to go up and understand what their role is as a councilman."
Hear Mayor Mollaun's full interview in the audio player below.
RELATED STORIES:
Lawrenceburg Mayor Set For Annual State Of The City Address
Mollaun Stays Mayor In Lawrenceburg, Drury Wins Mayoral Race In Aurora