St. Lawrence School teacher Bryan Wagner ran fast in all four races at the Cincinnati Flying Pig Marathon weekend.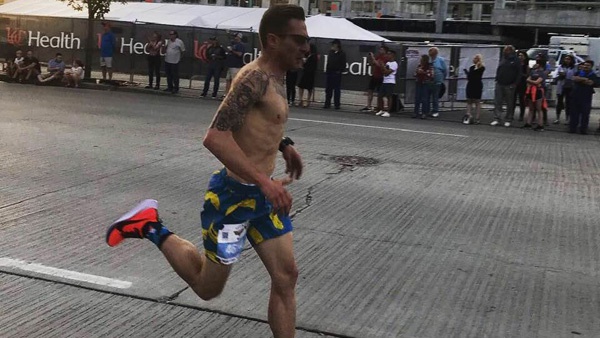 Bryan Wagner, of Lawrenceburg, posted impressive times in four races at the Cincinnati Flying Pig Marathon weekend. Photo courtesy Bryan Wagner.
(Cincinnati, Oh.) – Bryan Wagner wasn't the first person to cross the finish line at any of the four races at the Cincinnati Flying Pig Marathon weekend.
But he excelled among the handful of people who ran in each and every footrace through the Queen City.
Wagner, of Lawrenceburg, placed second in the Flying Pig 4-Way with Extra Cheese, which is running all four races: the Fifty West 1 Mile, Tri State Running Company 5K, Toyota 10K, and full marathon. His total time for the four races was 4:04:07. He was second in the 4-Way Challenge only to Christopher Rayder, a runner for the University of Tennessee.
Wagner spoke about his performance on Eagle Country 99.3 on Monday morning.
"Saturday felt awesome in the 10K and 5K back-to-back. The 10K goes first, then about an hour-and-a-half later you line right back up for the 5K. Legs felt great. That's kind of my forte. I do a lot of the shorter distance races around here in the tri-state. I really thought I shined in those. I was in the top five in both," Wagner said.
LISTEN TO EAGLE COUNTRY 99.3'S INTERVIEW WITH BRYAN WAGNER:

His times were 5:04 in the Fifty West 1 Mile, 17:45 in the Tri State Running Company 5K, 37:11 in the Toyota 10K, and 3:04:07 in the full marathon.
"Four races. Four personal records as far as my times," Wagner said gleefully.
Because he finished the full marathon in less than 3:05:00, Wagner qualifies to run in one of the world's premier footraces at the Boston Marathon.
At each race, his wife and two children were waiting for him at the finish line. The couple is expecting their third child soon.
Wagner is a physical education teacher at St. Lawrence School in Lawrenceburg. He is planning a 5K race in Lawrenceburg in August. It will raise funds for new PE equipment for the school.
The winners of this year's Flying Pig Marathon are no strangers to finishing first. Jack Randall won the men's 26.2-mile race for the second time in three years with a time of 2:28:58. Women's race winner Anne Flower beat her 2016 winning time in outpacing the field in 2:49:17.
View full Flying Pig Marathon results at www.flyingpigmarathon.com.