Listen to the candidates for mayor of Lawrenceburg appear on Eagle Country 99.3.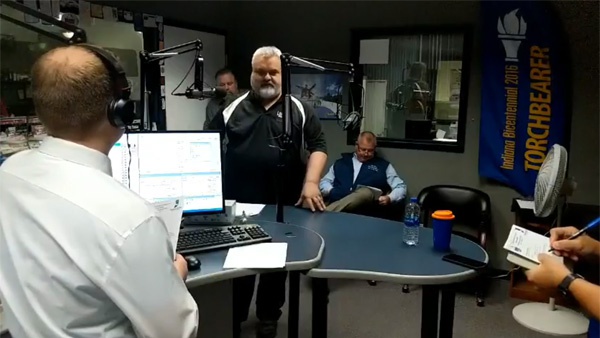 Lawrenceburg Republican mayoral candidates debated on Eagle Country 99.3 on Wednesday, April 24.
Lawrenceburg Republican Candidates for Mayor

Lawrenceburg Democratic Candidates for Mayor

(Lawrenceburg, Ind.) - Mayoral candidates from Lawrenceburg squared off on Eagle Country 99.3 on Wednesday.
The radio station partnered with the Dearborn County Chamber of Commerce for the Dearborn County Debates broadcast. The debates were co-moderated by Eagle Country 99.3 news director chamber president and CEO Eric Kranz.
Lawrenceburg Republican mayoral candidates Kelly Mollaun, Steve Linkmeyer and Mike Lawrence were asked about how they would ensure fly ash does not impact local water.
"It's not a matter of if our water is going to get contaminated. I feel like when," said Linkmeyer, directing voters to his plan for a new reservoir to be formed near the city to serve as a potential new drinking water source.
Lawrence vowed that he would stay on top of the issue if elected and keep citizens informed.
"I will ask for meetings with the governor, state representatives, IDEM and when I find out what is going on I will make transparency (a priority) and let our residents of Lawrenceburg know," Lawrence said.
Mollaun, the current mayor now in his fourth year in office, laid out what his administration has done in regards to fly ash and local groundwater.
"We do meet with the governor's office. We meet with IDEM. We meet with Ports of Indiana on a regular basis. One reason is because of the port. The biggest reason is because that port is not going to get built unless they have an environmental clean bill of health over there," he said.
The Republican candidates sniped at each other over purported lies about the fly ash matter. Mollaun "went against his personality" and noted that Lawrence and Linkmeyer have each sued the city.
"Let's ask the real question. What is really the loyalty to the City of Lawrenceburg when things have engaged like that from these candidates?" he asked voters to consider.
Lawrence retorted that he sued the city over "dry promises" and he has nothing to apologize for. Linkmeyer said he will not allow anybody to walk over the city for financial gain and he's never caused the FBI to come and investigate the city.
They were also asked if they would support the city assisting Lawrenceburg Community Schools with the funding of campus-wide renovations. Mollaun and Lawrence favored the idea of the city providing a low-interest loan to the school corporation, but not a gift or grant money. Linkmeyer suggested having the city's grantwriter assist the school in seeking grant money from other sources.
The winner of Lawrenceburg's GOP mayoral primary will face the Democratic nominee. Running for that title are former mayor Dennis Carr and current city councilman Aaron Cook.
Carr's term as mayor from 2012 through 2015 was plagued by differing ideologies on city spending between members of his administration and city council. Asked about leadership and willingness to compromise, Carr acknowledged the city government could have worked better in the past.
"A good city council, they legislate. A mayor, he runs your city. They need to know each other's job so they participate good," he said. "With a good city council, we can get a lot done."
Cook pointed out that he has been called the "voice of reason" on council by the local newspaper. He said he would work closely with council to keep them informed and come to a consensus on solutions.
"I have the experience of being on city council for two terms because I am aware of the issues that face every age group in our city," Cook said.
On the matter of fly ash and protection of the city's groundwater, Cook said he would work closely with IDEM and have the city pay for independent testing of water several times a year to confirm IDEM findings. Carr wants to see the Tanners Creek site "cleaned out" before a new river port is built there.
Primary Election Day is Tuesday, May 7. Early in-person voting began April 9 at county courthouses and election offices across Indiana.