Freddy's Frozen Custard and Steakburgers is located on New Haven Road in Harrison, Ohio.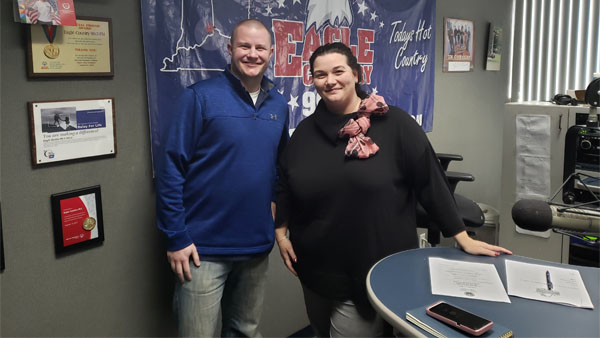 Double T, Travis Thayer with Carol Kalwa. Photo by Jack Clevenger, Eagle Country 99.3.
(Harrison, Oh.) – Freddy's Frozen Custard and Steakburgers is set to celebrate its namesakes 94th birthday.
Starting Friday, February 15 through Sunday, February 24, Freddy's customers will be able to enjoy a single scoop of custard in a dish or cone for just 94 cents.
Carol Kalwa, of Freddy's Frozen Custard and Steakburgers in Harrison, joined Travis Thayer in studio on Tuesday afternoon to talk about the birthday promotion.
HEAR THE INTERVIEW IN THE AUDIO PLAYER BELOW:
Kalwa also shared information on her selection as one of the Cystic Fibrosis (CF) Foundation's 2019 Finest Under Fifty candidates.
As a candidate, Kalwa is committed to raising as much money as she can to help the mission of the CF Foundation. Her goal is $25,000 in just 12 short weeks.
You can support Kalwa and her fundraising mission by purchasing a ticket to the Finest Finale on Thursday, April 25 at Newport Aquarium. Each ticket she sells goes directly toward her fundraising goal. Tickets can be purchased here.
Gibbons Insurance Agency of American Family is partnering with Kalwa for an additional Cystic Fibrosis fundraising event on Friday, March 1 from 6:00-9:00 p.m. at the ArtsConnect Springfield Township Community Art Center, 9158 Winton Road.
Attendees will have the opportunity to paint either a flower canvas piece or a wooden spring porch sign. The event will also include a silent auction, cash bar, chili and dessert.
All proceeds will make a difference in the lives of 30,000 children and adults in the U.S. that are currently battling CF.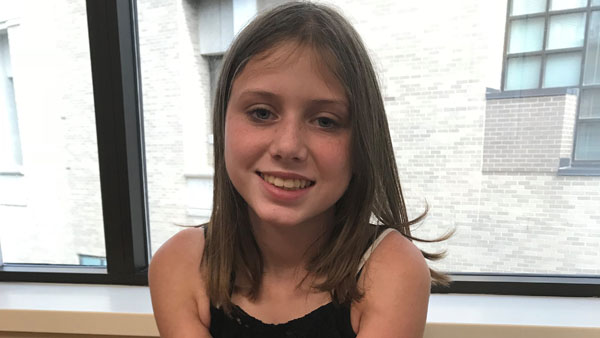 Hailey was diagnosed with CF as a newborn. Photo provided.
The following story is published by the Cystic Fibrosis Foundation
Hailey was born a fighter on August 9, 2007. She was diagnosed with CF through newborn screens after more than a week in the NICU at Cincinnati Children's Hospital.
She has had many surgeries/procedures due to her having CF, has been hospitalized several times and she spends several hours every day doing vest therapy and breathing treatments.
She has appointments with her pulmonary doctor every three months when she is doing well, and more often when she is sick. She also takes a lot of medication. All of this is keep her as healthy as possible!
She is a fun loving, independent girl that does not let CF stop her!! She loves to play softball, basketball, tumbling and is also a cheerleader! She goes to school and cheer practice even with picc lines in place! She is an amazingly strong girl!!
She has 2 brothers - one older and one younger and she is a great sister to both! She loves her family!
She loves raising awareness for CF and is usually open and honest with anyone about what she goes through on a daily basis. Awareness is one of the reasons why she looks forward to the Great Strides walk every single year! She calls it Hailey's Heroes day - Hailey's Heroes is our team name.
Her friends and family all work together to raise money to help find a cure for the thousands of people who are living with CF. We have high hopes that because of all of the amazing work that the CF Foundation is doing, we will see a cure in Hailey's lifetime!
The CF Foundation is a wonderful organization. They have helped to accomplish amazing things in the treatment of CF. Years may be added to the lives of many CF patients thanks to the work that is being done! We will continue to work with The CF Foundation and continue raising money until a cure is found!