Several new businesses are planning to open in downtown Harrison in the near future.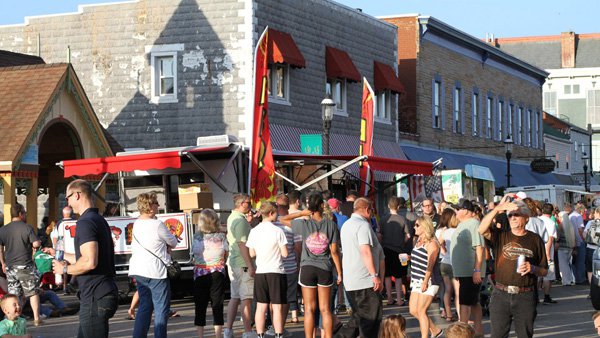 A crowd at The District's Food Truck Rally in Harrison. Photo courtesy of The District.
(Harrison, Oh.) – Harrison is getting away from referring to its historic downtown as "Old Harrison" and hoping people will instead come to call it The District.
"We're really upgrading what we're doing down there," says City of Harrison Economic Development Director Shannon Hamons.
In March, the city succeeded in getting the State of Ohio to designate downtown as an entertainment district, which makes available up to 12 new liquor licenses.
The hope is to lure new businesses and restaurants. Hamons says there are already four new restaurants planning to open in downtown within the next year, including one in downtown's oldest building at 301 Harrison Avenue.
Gerilyn Jobe is planning her wine and beer bistro called Heist & Company in another building that once housed a bank. She was among the first few to apply for one of the new liquor licenses.
"We'll open, hopefully, by the first of next year," she says.
LISTEN TO EAGLE COUNTRY 99.3'S INTERVIEW WITH SHANNON HAMONS AND GERILYN JOBE.

Redevelopment is the focus in The District, not just new construction. New downtown redevelopment building design standards were approved by the Harrison City Council on Tuesday, July 17.
"We don't want people to just come in and knock buildings down," Hamons says, adding any new construction downtown must fit in with the existing architecture.
The revitalization of The District is accompanied by reinvestment in residential properties. As many as four homes have been renovated this year, Hamons shares.
Events are being held in The District more frequently these days. A food truck rally was a popular draw in May.
On Saturday, July 20, The District's Wine Walk on the Avenue will run from 7:00 until 10:00 p.m. The 21-and-older event will feature wine samplings from four local wineries – Hanover, Vinoklet, Holtkamp and Woodstone Creek – as well as a commemorative wine glass, swag bag, and appetizers. Learn more at https://www.facebook.com/events/2124785251127807/.