The splash pad at Miami Whitewater Forest will not reopen.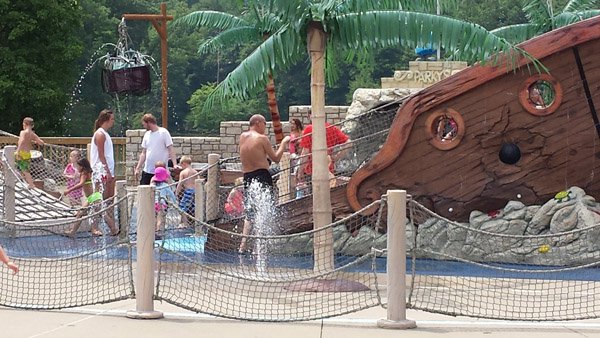 Parky's Pirate Cove wet playground at Miami Whitewater Forest will not reopen. File photo.
(Harrison Township, Oh.) - There's bad news for families planning to cool off at Miami Whitewater Forest park this summer.
Hamilton County Great Parks announced Tuesday that the Parky's Pirate Cove wet playground at the park has been closed.
And the closure won't be temporary. It's permanent.
The parks agency said on social media that after 25 years, the park has reached the end of its life cycle. Replacing or repairing some parts of the park is simply too expensive.
"We'll be using this area for more green space for now, and there are still lots of recreational activities to enjoy at Miami Whitewater Forest, like one of the longest paved multi-use trail loops in the county and pedal boats," Great Parks' announcement said.
The popular splash pad first opened in 1996 as one of the region's first wet playgrounds.
Wet playgrounds at Winton Woods and Woodland Mound will remain open, according to Great Parks.
For those willing to drive elsewhere, the City of Greendale's newer public pool has a shallow area for young children. The City of Lawrenceburg is planning to construct a new wet playground at its public pool in coming years. A fundraising effort is also underway to build a new public pool in Brookville.