Greendale Middle School student Kensington Harrison is helping other children with her genetic disease cope with the life adjustments it requires.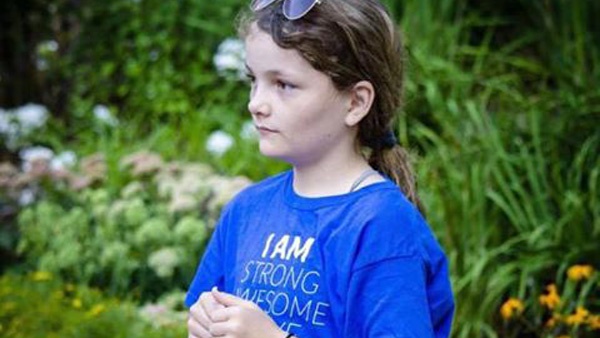 Kensington Harrison, of Greendale, has been diagnosed with vascular Ehlers-Danlos syndrome, a disease which keeps her from participating in many physical activities. Photo provided.
(Greendale, Ind.) – Imagine your father passing away suddenly from a mystery illness.
Imagine you learn a few months later that you have been diagnosed with the same genetic condition which led to his death.
Twelve-year-old Kensington Harrison has lived it. Her father, Thad Harrison, died in 2017 at 43-years-old a week after falling ill and doctors discovering he was hemorrhaging blood internally.
Testing confirmed Kensington's dad had vascular Ehlers-Danlos syndrome, a genetic mutation which causes arteries to become extremely fragile. Although the medical mystery had been solved, it opened a new question: had the condition been passed down to Thad's children?
Kensington's brother was cleared, but she was diagnosed with vEDS following testing.
"I was really scared. I just knew that it was bad because my dad died from it," the Greendale Middle School 7th grader tells Eagle Country 99.3.
Doctors advised that Kensington would have to lead a much more cautious life in order to avoid rupturing any of her arteries. That meant no more playing basketball with her friends or cheerleading with classmates. She would have to begin taking daily vitamin C supplements to help her body produce a specific type of collagen to make her arteries a little stronger.
There is no estimated timetable for how long a person with vEDS can expect to live. Some survive for many years. But for any person with the condition, they must live with knowing that any fall, bump, or bruise could become a life-threatening emergency.
"It has no rhyme or reason. It strikes when it wants to," explains Kensington's mother, Chastity.
Those diagnosed with vEDS may not know it until it is too late, as was Thad's tragic case. It doesn't cause hair to fall out. People with the syndrome don't look sickly or feel chronic pain. Chastity calls it an "invisible illness."
There is no cure for the condition.
Kensington became a Make-A-Wish child following her diagnosis. She and her family traveled to Hawaii to swim with dolphins.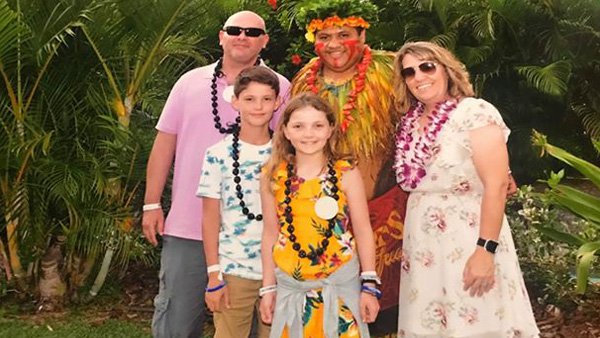 Kensington and her family took a trip to Hawaii thanks to the Make-A-Wish organization. Photo provided.
Getting to know Kensington, the people at Make-A-Wish in greater Cincinnati took note of her confident speaking ability. She has been a special speaker at a few Make-A-Wish events. The organization has also put other kids recently diagnosed with vEDS in touch with Kensington.
"I talk to other kids around the country about it. I help them get through it if they are having hard times about it," she shares, noting that a vEDS kid can have a hard time feeling like they don't belong with their peers because they must sit out of so many physical activities.
Although she can't compete on the field or court, Kensington is able to compete in beauty pageants, a hobby she has recently taken up.
"My disease doesn't define me," she says.
She is also involved in musical theater. Her cheerleading team at Greendale Middle School accommodates her by allowing her to participate in sideline cheers. Greendale Mayor Alan Weiss even made her an honorary mayor for a day.
"But it's still really scary, because if I want to do something, but can't do it, I have to walk away from it and watch everyone else do it," shares Kensington.
The young girl is not living life in fear. She is looking toward the future. She hopes to one day be a doctor after her interactions with doctors through her diagnosis.
The death of a father while dealing with other major life changes is difficult for any child. Chastity says the family has been aided through Kensington's vEDS diagnosis by her new fiancée, Scott Spinnati.
"He's an amazing support for her," she notes.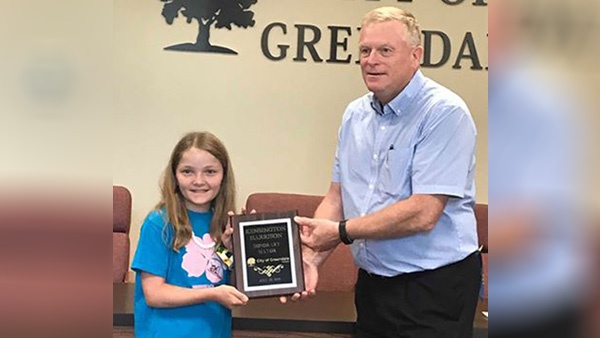 Kensington was made an honorary mayor for a day by Greendale Mayor Alan Weiss. Photo provided.