Dearborn County investigators say a cell phone found at the crime scene belonged to the burglar.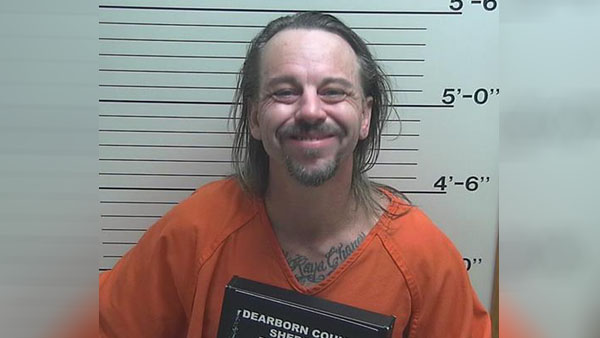 Michael R. Chaney. Photo by Dearborn County Sheriff's Office.
(West Harrison, Ind.) - A business burglary in West Harrison was quickly solved by Dearborn County Sheriff's investigators last week, thanks to a key piece of evidence left behind by the suspect.
USA Choppers on South State Street was broken into on Tuesday, September 17. Items taken from the business were found a short distance away, along with a Cincinnati Reds hat, according to a court affidavit.
As police were investigating, they were told by a neighboring business owner about some criminal mischief which was caught on surveillance camera at their business that same night.
Investigators tracked a white Nissan Maxima to nearby resident Michael R. Chaney.
Police also located at the crime scene a cell phone which Chaney had allegedly left at USA Choppers during the break-in. The phone was found just beneath a window through which Chaney allegedly broke to enter the business.
Chaney had also posted social media videos earlier that evening showing him wearing the Reds hat that was located near the scene.
Chaney, 42, of West Harrison, is in jail charged with Burglary While Armed with a Deadly Weapon (level 2 felony), Burglary (level 5 felony), Theft (class A misdemeanor), and two counts of Criminal Mischief (class B misdemeanor).