Looking for something to do on or near the Ohio River? The Ohio River way has you covered.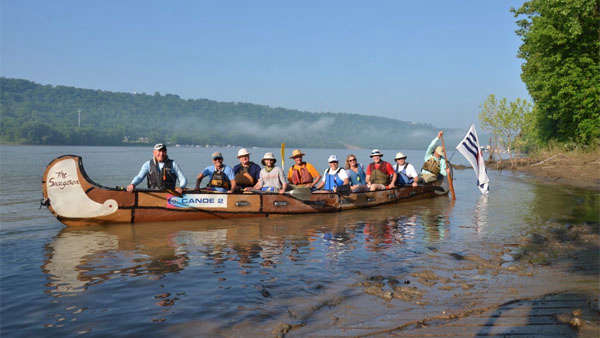 Photo provided.
(Lawrenceburg, Ind.) - A 250-mile, 10-day paddle on the Ohio River is being tabbed a huge success.
The trek that took place May 31 through June 9 helped officially launch the Ohio River Way (ORW), which connects people and communities to opportunities for adventure on and along the Ohio River from Portsmouth, Ohio to West Point, Kentucky.
The ORW's award-winning Digital Guide to the Ohio River helps paddlers, cyclists, hikers, anglers and motorists plan their adventures by providing information about boat ramps, marinas, campgrounds, bike trails, parks, historic sites and other amenities.
During the 250-mile trip, paddlers made stops in host towns such as Aurora, Rising Sun, Vevay, Carrollton and Madison. Along the way custom made signs were distributed to most of the 61 public boat ramps between Portsmouth and West Point.
One of the other goals of the trip was to engage 100+ Partners and encourage them to become dues paying charter members of the Ohio River Way. Paid membership will be key to the ORW's ability to develop a sustainable source of funding so we can hire a director and better serve our members.
Additionally, their are some upcoming events will take place in southeastern Indiana.
The 17th annual Open Team Catfish Tournament takes place September 10-11 in Rising Sun. More information at https://ohiovalleyrivercats.com/.
The Ohio River Way will hold their 2nd annual ORW Summit on Thursday, November 10 in Lawrenceburg. Details about the agenda, meeting logistics and happy hour have yet to be released.
For more information about the Ohio River Way, visit https://www.ohioriverrecreationtrail.org/.