How has 2018 been treating local riverboat casinos? Find out here.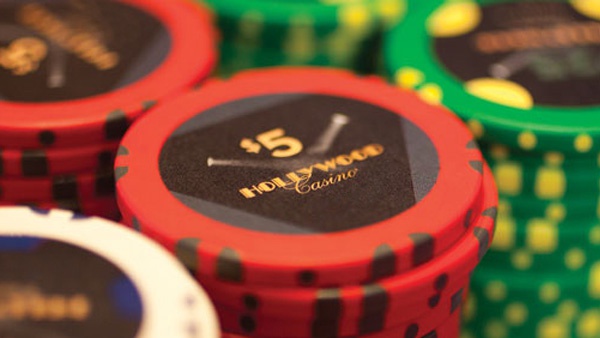 (Lawrenceburg, Ind.) – Gambling revenues at southeastern Indiana's riverboat casinos remained largely flat through the first half of 2018.
Indiana Gaming Commission publishes monthly revenue and attendance reports for each of the state's 13 casinos. Eagle Country 99.3 has tallied the numbers for Hollywood Casino Lawrenceburg, Rising Star Casino Resort in Rising Sun, and Belterra Casino Resort to see how local revenues are trending when compared to the first half of 2017.
Flooding on the Ohio River in February and March harmed two of the casinos' money-making ability last spring, while helping the third. Both Belterra Casino and Rising Star Casino had to shut down for several days as the Ohio River reached its highest flood level since 1997.
At Belterra Casino, both revenue and visits for the first half of 2018 were down. The $54.5 million brought in during the first half was a decline of only 0.39 percent. Visits were down markedly by 11.7 percent to 475,984. Pinnacle Entertainment, which owns Belterra Casino and Belterra Park in Cincinnati, acknowledged the impact of lost revenue and cleanup on the two properties at several million dollars.
Rising Star Casino's revenue suffered the biggest percentage decline locally. The revenue was off 2.99 percent to $22.1 million. Visits fell even further, down 7.2 percent to 333,422.
"Weather was a significant challenge in the quarter, with a terrible ski season at Lake Tahoe and the Ohio River flooding at Rising Sun," said Dan Lee, president and CEO of casino parent company Full House Resorts, in a first quarter update to investors.
Executives at Rising Star are hopeful that its new Ohio River ferry boat set to debut in August will make access easier for gamblers from northern Kentucky, thus helping the casino's bottom line in 2018 and beyond. Full House Resorts has also been investing in a refurbishment of the casino's pavilion and hotel, "so visitors arriving on the new ferry will have a significantly enhanced arrival experience," Lee said.
Hollywood Casino still dominates the local gambling market. It was the only local casino to see an increase in revenue for the first six months of 2018, which totaled $86.2 million. That's an increase of 1 percent over the first half last year. More dollars were collected despite a 1.9 percent decline in attendance to 697,311.
In a first quarter results release from Hollywood Casino owner Penn National Gaming, the company cited a favorable result from the flooding – a nod that gamblers unable to go aboard Rising Star or Belterra casinos opted to visit the Lawrenceburg riverboat. The positive impact for Hollywood was pegged at $855,000.
Regionally, the three local boats' combined visits numbered 1.506 million, down 6.39 percent, from 2017's first half. Despite fewer people gambling, the trio's combined revenues of $162.8 million was virtually unchanged compared to last year at the halfway point – a sign that those visiting the casinos are gambling away more money.
Looking statewide in Indiana, casino revenues increased 2.7 percent to $1.11 billion. Attendance, however, is down drastically by 14.4 percent to 6.76 million people.
RELATED STORIES:
Rising Star Casino's Ohio River Ferry To Be Christened Thursday