Milan High School senior Zac Minnich has signed on as a preferred walk-on with the Cardinals.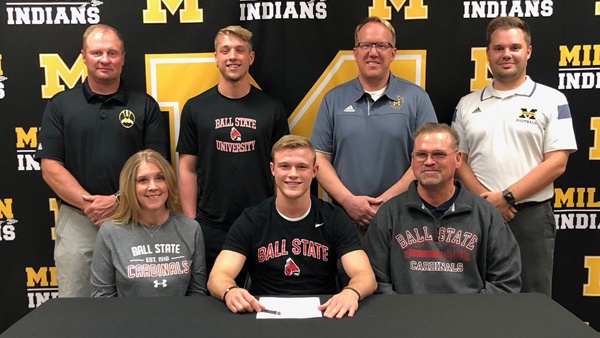 Zac Minnich has signed as a preferred walk-on at the wide receiver position with Ball State University. Photo courtesy Milan High School athletics.
(Milan, Ind.) – One of the best ever players to wear a Milan High School football team uniform is getting a chance to continue his playing career at the NCAA Division I level.
Zac Minnich has signed to attend Ball State University as a preferred walk-on wide receiver, according to Milan High School football coach and principal Ryan Langferman.
Zac Minnich's Milan High School Football Records
3,193 career receiving yards (11th all-time in Indiana)
56 career touchdowns
356 career points
24 receiving TDs in a season
287 receiving yards in a game
4 receiving TDs in a game
Longest TD reception from scrimmage,92 yards
By the end of his career at Milan, Minnich ranked 11th in all-time receiving yards in the state of Indiana. He finished with 140 catches for 3,193 yards in three years, despite Milan becoming a heavily run-oriented offense in his senior season in 2017 when the team went 9-2.
"Everyone enjoyed having Zac as a teammate and he made everyone on the team feel important. He understood that a team win was more important than his own personal stats at the end of the game," Langferman said.
Langferman says Minnich was elected a two-time captain of the team and was constantly coaching younger players. Some of the honors he has received include two-time AP 1st Team All-State, three-time IFCA All-State, and three-time All-Mid-Indiana Football Conference.
"Zac's stats speak for his talent and athletic ability. The most impressive thing about Zac is his personality and work ethic."
He has maintained a 3.89 GPA to boot. The coach called him the definition of a scholar-athlete. Zac is the son of Mike and Pam Minnich.
The Ball State University Cardinals, coached by Mike Neu, went 2-10 (0-8) in the Mid-American Conference last season.