Renovations were also made recently at the Old Gym.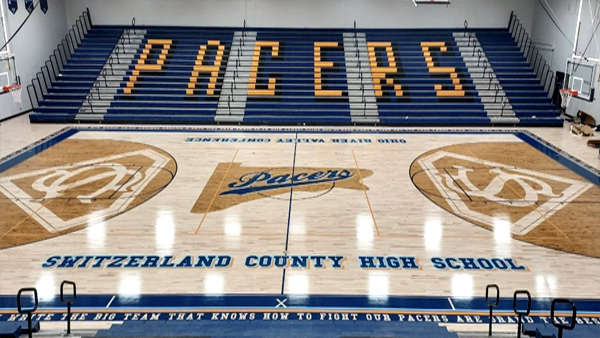 Photo by Switzerland County Schools.
(Vevay, Ind.) - Switzerland County High School has a new gym floor for the first time in over 50 years.
Athletic director Brian Graham tells Eagle Country 99.3 that no more sanding was able to be done on the original floor from around 1968, leading to the installation of the brand new floor.
The unique design, which features two tones of wood, the Switzerland County logo inside the three-point arc, and the school fight song around the perimeter, was a team effort by the school's athletic council, buildings and grounds personnel and administrators.
The Switzerland County volleyball team will be the first to take the court on Tuesday evening when they host Trimble County.
Our SCHS @switzsc volleyball team will play the very first game on our new gymnasium floor this evening against Trimble County. Looking forward to creating many memories here in the future. Go Pacers! #PacerPride pic.twitter.com/eCUWlZVqeb

— Switz Co Schools (@switzsc) September 25, 2023
Improvements were also done recently at the Old Gym, which was constructed in the 1930s near then Vevay High School. When Superintendent Rod Hite was hired six years ago, he made it one of his top priorities to make improvements at the Old Gym.
That culminated with some fresh paint, Pacer logos on the walls, and a mural on the stage wall which can be seen in the photo below. The Old Gym also has a new restroom that is handicap friendly, which it never had before.
The Switzerland County volleyball team has been playing some home games at the Old Gym while the new floor was being installed at the high school.
Moving forward, there will be some 'Throwback Games' taking place at the Old Gym. Plans call for the boys JV and varsity basketball teams to play Clarksville, while the girls basketball program will play Carroll County.
AD Graham says all graduates of Patriot and Vevay will be offered lifetime passes to sporting events in the Old Gym.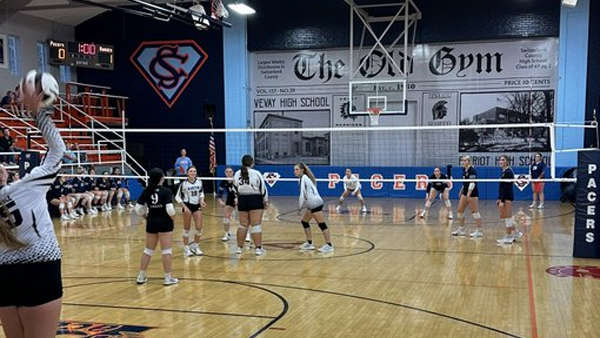 The Pacers volleyball team serving it up in the Old Gym. Switzerland County Athletics photo.