The annual race will wind through downtown Lawrenceburg.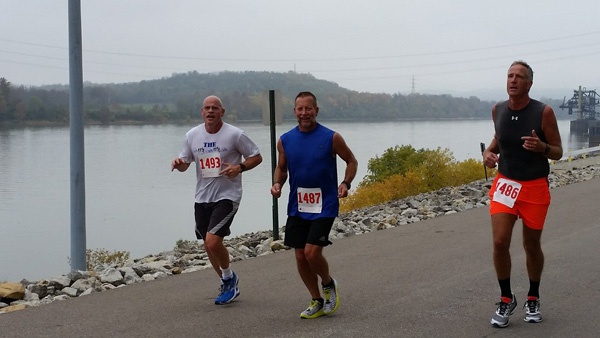 Photo provided.
(Lawrenceburg, Ind.) - Runners will "barrel" through historic downtown Lawrenceburg, Indiana during the 4th Annual Whiskey City Spirit Run 5K on Saturday, November 3.
The race will start at the Lawrenceburg clock tower on the Ohio River levee at the end of Walnut Street at 11:00 a.m. Runners and walkers will wind through the city which whiskey put on the map.
The early entry fee for the race is $25 ($20 for ages 20 and younger) on or before October 20. Starting October 21, the registration fee will increase to $30 ($25 for ages 20 and younger). Online race registration is available now at https://www.racemenu.com/events/165434-Whiskey-City-Spirit-5K-Run-Walk-. Runners and walkers of all ages are welcome. Strollers and pets are allowed with a paid adult.
Participants will receive a dri-fit official race t-shirt, a bottle opener-shaped medal, a goodie bag, and commemorative Whiskey City Festival tumbler glass (21 and older only). Trophies will be awarded to the race's top performers.
Stick around after crossing the finish line for a post-race party near the river levee featuring live music, awards, and food.
Come back to the Lawrenceburg Event Center later Saturday, November 3 for the Whiskey City Festival hosted by the Lawrenceburg Event Center. The event celebrating Lawrenceburg's whiskey heritage is for ages 21 and older. Find more details at www.whiskeycityfestival.net.
Funds raised by the Spirit Run 5K benefit the missions of the Lawrenceburg Lions Club and Dearborn County Young Professionals.
Local businesses, organizations, and individuals can become sponsors of this event. Sponsorship will exhibit your company or organization's commitment to supporting our local community and promoting healthy lifestyles. Those interested in sponsoring the event should email DCYP president Rachel Reynolds at rachelreynolds0610@gmail.com and Lawrenceburg Lions Club member Tom Palmer at tpalmer347@gmail.com by October 15. A sponsorship form can also be downloaded at http://dearborncountychamber.org/wp-content/uploads/2018/09/2018-Whiskey-City-5K-Sponsorship-Letter.pdf.