There is a lot of excitement around the program, including the debut of a new turf field on September 18.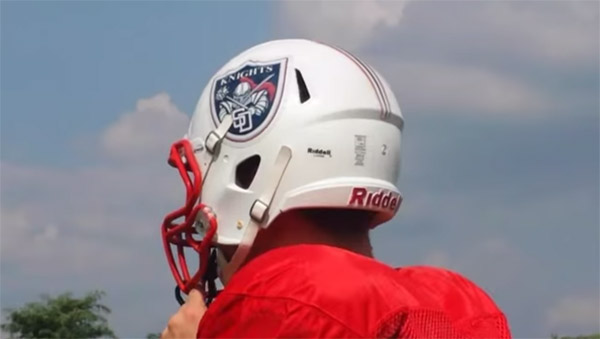 (Aurora, Ind.) - A roster filled with juniors and seniors is primed for a winning season in Aurora.
South Dearborn went (5-5, 1-2 in EIAC 4A) last season. The Knights started off hot, winning four of their first five games before hitting the toughest part of their schedule that featured the likes of East Central, Franklin County and Lawrenceburg. Their season ended in the first round of the playoffs, losing to eventual sectional champion Mooresville.
There are no excuses from the SD players and coaching staff, but the team was without star quarterback Adam Dixon towards the back end of the season after suffering an injury to his throwing hand.
Reese Willoughby assumed the role of QB after Dixon went down, but going into 2020, the Knights will turn to sophomore Logan Thies (6'5", 179 lbs.) to take the snaps at quarterback. Head coach Rand Ballart says Thies and Willoughby battled all summer long to see who would take over for Indiana South All-Star and Wilmington College commit Adam Dixon. In the end Thies won the battle, and Willoughby will return as a wide out, where he produced 450 yards and four touchdowns a year ago.
"We just felt after last week, and I'll be honest with you it really went up to last week, we just felt we're a better team with both those two individuals on the field," said Ballart.
Ballart added that the thinking is that Thies can not only help the Knights win games this season, but that he could develop into a similar type quarterback as Adam Dixon by the time he is a junior and senior.
Speaking of which, the Knights roster will feature plenty of juniors and seniors this season.
"We're trying to get to that point where we don't rebuild, we reload," said Ballart. "We aren't quite there yet, but we're trying to get to that spot. If we don't have to play any sophomores that's our goal. Right now we are looking to play a couple of them, but for the most part we have all juniors and seniors across the front lines and hopefully they will take us where we want to go."
HEAR COACH BALLART'S FULL INTERVIEW WITH DOUBLE T IN THE AUDIO PLAYER BELOW
The Knights offensive line will be anchored by seniors Dalton Traue, Alex Rollman and Chase Emmert. Juniors Jackson Goodall and Alex Kemper are also expected to start week one. Dalton Hatfield will add some beef to the line at tight end.
Those young men will be tasked with opening up space for some talented playmakers.
Coach Ballart is very high on his returning receiving core. Alongside the aforementioned Reese Willoghby, Hunter Hatfield is back after sitting out last year with a knee injury. Isaiah Otto and Blake Bartley will see time at SLOT receiver with Sophomore Austin Ballart is also expected to be in the rotation.
"We feel we're pretty talented at that wide receiver spot. We have some playmakers there that aren't afraid to go up and get the ball," Ballart said.
Junior C.J. Rogers is another player who will be featured on the Knights offense as a running back. Bartley will likely see some time at running back too, as Coach Ballart describes Bartley's speed as "incredible". The Knights coaching staff hopes Rogers and Bartley can duplicate the production of Dalton Guthrie, who is off to play college ball at Valp.
"We're excited about our skill guys, a lot of playmakers out there. We just have to figure out a way to get the ball in their hands and good things are going to happen," said Ballart.
On defense, South Dearborn brings back one of the more talented defensive lines in the area, including 2019 EIAC All-Conference selection Bryce Valdez , Austin Ashcraft and Dalton Hatfield.
"I'll put our front-four up against anyone we play this year," said Ballart.
The back-seven will be led by the Knights top returning tackler, Bailey Whitelock. The senior strong safety had 62 tackles, two interceptions and a forced fumble in 2019. Senior Drake Peetz, who Ballart said is the fastest player on the team, is expected to be the team's top corner. Coach Ballart has also been impressed by junior Cooper Barker, junior Mikey Phillips and sophomores Kadence Taylor and Ryan Willoughby.
At linebacker, the Knights return talented seniors Dylan McGill and Jarrett Montgomery and junior Sean Sohmer, who missed several games last year due to meniscus injury.
South Dearborn will open the season with four-straight road games while installation of their brand-new multi-use turf field is completed. Construction has come along quickly after Jerry Backman donated $500,000 towards the project in June. The excitement level is sky high at South Dearborn.
The work continues on the new athletic turf at South Dearborn High School. Lots of progress this week.

The field looks great!@sdsportsreport@southdearborn@southdearborncs @eagle993 @_STDUB @TheMotzGroup pic.twitter.com/oWjqgxBgsC

— BC Drone Work (@bcdronework) August 16, 2020
"It's absolutely incredible," said Ballart."I can't tell you how excited this community is, these kids are. The turf is almost in completely. We got out of practice last week and our seniors, I thought they were dead tired after conditioning but they sprinted off our back field to get their feet on the turf. The generosity of Jerry Backman and his family to do what he did for this community is just absolutely incredible. I'll never be able to thank him enough."
South Dearborn's home opener on the new Jerry Backman Field is scheduled for Friday, September 18 against Greensburg. Ballart says Car Country Aurora will be helping South Dearborn put on an "unbelievable show" for their homecoming.
RELATED STORIES: South Dearborn HS Has Sights Set On Multi-Purpose Turf Field After Big Donation
As for the team's goals in 2020. The expectation is to compete for conference and sectional championships, in addition to winning a big rivalry game at the end of the season.
"That's the goal, to win the 4A side and then at the end of the year win the Lawrenceburg/South Dearborn game," said Ballart. "Its a fun game, a fun atmosphere to be involved in. Then as we head into the sectionals, they head into sectionals, we hope we do good justice for everybody."
First up though is Seymour. The Knights will be looking to avenge a narrow 30-26 loss a season ago and start off their four-game road stretch on a good note.
"We're extremely excited," said Ballart. "We have no challenges, no fears of going on the road. It's just business as usual. On September 18, we'll definitely be ready to get back here and play on Backman Field, I can tell you that."
SOUTH DEARBORN 2020 SCHEDULE
Friday, August 21 - at Seymour - 7:00 p.m.
Friday, August 28 - at Madison - 7:00 p.m.
Friday, September 4 - at Batesville - 7:00 p.m.
Friday, September 11 - at Connersville - 7:00 p.m.
Friday, September 18 - vs. Greensburg - 7:00 p.m.
Friday, September 25 - vs. East Central - 7:00 p.m. (Eagle Country 99.3 Feature Game)
Friday, October 2 - at Franklin County - 7:00 p.m.
Friday, October 9 - at Rushville - 7:00 p.m. (Eagle Country 99.3 fan vote week)
Friday, October 16 - vs. Lawrenceburg - 7:00 p.m. (Eagle Country 99.3 Feature Game)