A total of 24 footballers from southeastern Indiana made the list.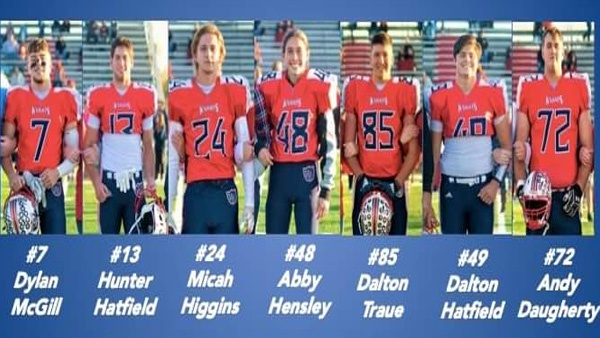 Photo by South Dearborn Football.
(Aurora, Ind.) - Two dozen high school football players from southeastern Indiana have been recognized for their work in the classroom.
The Indiana Football Coaches Association recently released their 2020 Academic All-State Team.
South Dearborn had seven players make the list, the most of any team in the area. Those individuals are Dylan McGill, Hunter Hatfield, Micah Higgins, Abby Hensley, Dalton Traue, Dalton Hatfield, and Andy Daugherty.
Franklin County had five academic all-state selections, followed by East Central, Milan, and Batesville with three each. Lawrenceburg and Switzerland County were represented as well with three selections between the two schools. Student-athletes earning the honor include:
Franklin County: Garrett Ertel, Adam Kelly, Robbie Parsons, Evan Seal, Cameron Smith
East Central: Ryan Bond, Nathan Griffin, Noah Wilhelm
Milan: Josh Clark, Adam Norman, Chandler Reatherford
Batesville: Karson Macke, Ben Schebler, Kurt Siefert
Lawrenceburg: Adam Burd, Trevor Jones
Switzerland County: John Goldberry
To view the full 2020 IFCA Academic All-State Team, visit www.ifca.net.
Congratulations to these @SDKnightsFB members for being selected to the @INFBCoaches All Academic Team for the 2020 season. Great example of being a STUDENT-Athlete...Great job #KFI #WEareSD @sdsportsreport @SouthDearbornHS @southdearborncs @SDKnightNation @eagle993 pic.twitter.com/OBm71kXidr

— Rand Ballart (@SDKnightsFB) February 2, 2021
Congratulations to @aburd23 (Adam Burd) & @TrevorJ21976299 (Trevor Jones) for being selected to the @INFBCoaches Academic All-State Team! Go Tigers! pic.twitter.com/N88VSx2eIq

— Ryan Knigga (@lhstigercoach) February 1, 2021