The scoring gap between first and second was 0.3 points.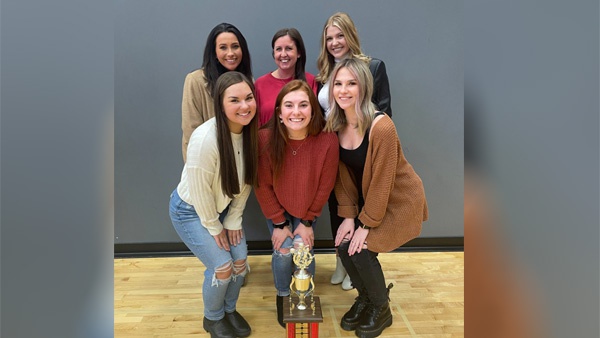 Front row: Seniors, Marrgo Arnsperger, Jozie Mason, and Cadence Denny. Back row: Coaches, Lori Rinehart, Lindsay Buerger, and Katie McLaughlin. Photo by SD Athletics.
(Aurora, Ind.) - The scores are in.
For the fourth year in a row, the South Dearborn Knights cheer team has won the Rivertown Classic Championship. Normally, the cheer teams from South Dearborn, Lawrenceburg, Rising Sun, and Switzerland County would perform during the final night of the boys basketball tournament.
However, this year due to COVID-19, the competition was held virtually.
The results were announced on Tuesday with the Knights holding off Lawrenceburg by the narrowest of margins:
South Dearborn - 225.6
Lawrenceburg - 225.3
Rising Sun - 218.5
Switzerland County - 216.7
The contest was judged on dance and formations, cheers and jumps, tumbling, and stunts, tossing and pyramids.
South Dearborn's competitive cheer team consists of Margo Arnsperger, Izzy Bear, Cadence Denney, Taci Hughes, Emalee Ramsey, Macie Teke, Emma Traue, Shanna Tschaenn, Kayla Upton and Avery Wuestefeld.
They are coached by Lori Rinehart, Lindsay Buerger, and Katie McLaughlin.