The 7th grade team finished the season with an 18-0 record.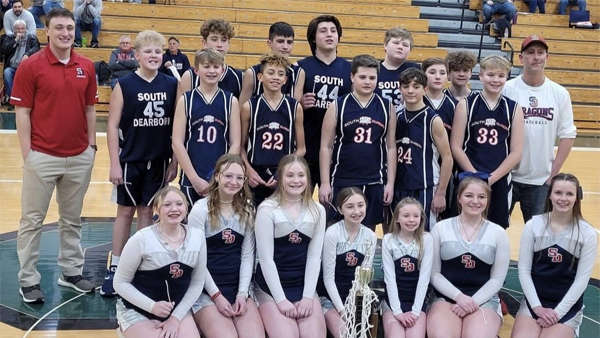 South Dearborn 7th grade basketball team caps off an undefeated season with an SEI Tournament Championship. Photo by PG Gentrup.
(Versailles, Ind.) – It was double the fun for the South Dearborn Middle School 7th and 8th grade basketball teams on Thursday night.
Both teams captured SEI Tournament Championships at South Ripley.
South Dearborn's 7th grade team won in dominating fashion with a 48-20 win over East Central, capping off an undefeated season (18-0).
It was a defensive battle in the 8th grade championship game, as South Dearborn defeated Batesville by a score of 19-13. South Dearborn's 8th grade team finishes the season with a 13-7 record, and two trophies (SEI Tourney, River Town Classic).
Rosters and cheerleaders for both teams are listed below.
7th Grade: Ryker Morris, Cameron Cheek, Jason Chipman, Scout Gray, Sam Gates, Jackson Johnson, Kaleb Hicks, Cooper Hizer, Carson Davidson, Wyatt Adams, Mason Lane, Brandon Roberts, Brock Guthrie, and Carson Vinson. Coaches are Mark Morris and Seth Couch.
Cheerleaders: Bailey Stoy, Elliana Pfaffli, Kylie Head, Monica Crisswell, Skylar Focklar, Brynn Hamlett, Karsyn Detmer, Lilly Graf and Samantha Hams and coached by Blake Sizemore and Christian Cowan.
8th Grade: Alex Probst, Izaak Lozier, Grady Walter, Noah Rogers, Cameron Campbell, Eli Sizemore, Elliot Meek, Mason Hamlett, Brady Ballart, Zac Cassini, Tre Taylor, Gage Harris, Garrett Clawson and Alijah Hawkins. Coaches are Mark Morris and Seth Couch.
Cheerleaders: Adrianna Schiller, Brooklyn Meyer, Kelsey Griffin, Mason Lusby, Aubrey Lagaly, Emma Hughes and Kendra Berry. Cheerleader coaches are Blake Sizemore and Christian Cowan.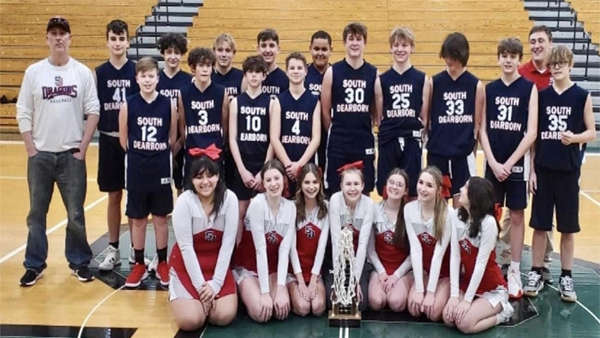 South Dearborn 8th grade basketball. Photo by PG Gentrup.