Lawrenceburg and South Dearborn are well represented as well.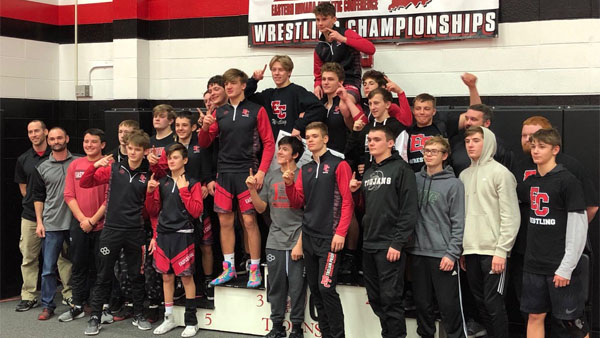 (St. Leon, Ind.) – If you want to make the EIAC Wrestling All-Conference Team, you must win the conference tournament in your weight class.
For six East Central Trojans, that's exactly what they did on their way to a team conference championship.
The Trojans were led by EIAC MVP Bryer Hall. The junior dominated the conference tournament at 152 pounds. Hall would eventually find himself in the State Championship match, where he finished as the runner-up.
Other Trojans who earned all-conference honors include Dylan Lengrich (106), Blake Wolf (113), Tyler Schneider (120), Kole Viel (182) and Kyle Krummen (195).
Lawrenceburg placed four wrestlers on the all-conference team. They are Corbin Walston, Jayce Bohan, Andrew Roth and Noah Rowlett.
Eli Otto and Jackson Goodall represented South Dearborn on the all-conference team.
The 2019-20 EIAC Wrestling Coach of the Year went to East Central's Adam Wolf.
The full 2019-20 EIAC Wrestling All-Conference Team is listed below.
106 – DYLAN LENGERICH - EC
113 – BLAKE WOLF - EC
120 – TYLER SCHNEIDER - EC
126 – ELI OTTO - SD
132 – CORBIN WALSTON - LB
138 – ADAM CROUCH - FC
145 – JAYCE BOHAN - LB
152 – BRYER HALL - EC
160 – ANDREW ROTH - LB
170 – MARCUS MALSON - RU
182 – KOLE VIEL - EC
195 - KYLE KRUMMEN -
220 – NOAH ROWLETT - LB
285 – JACKSON GOODALL SD