South Dearborn will play Mooresville and Milan hits the road to Knightstown.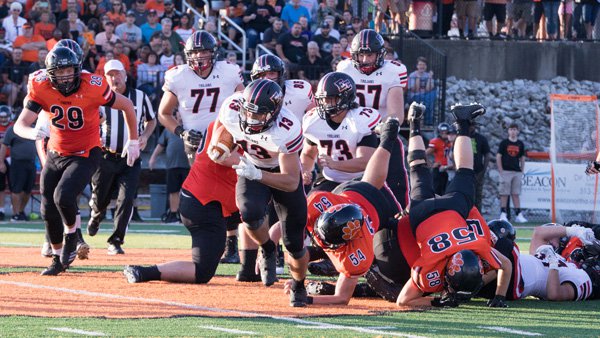 East Central and Lawrenceburg are among the favorites in the respective sectional groupings.
(Lawrenceburg, Ind.) – It's that time of the year to simply "survive and advance."
The Indiana High School Athletic Association held its State Football Tournament Pairing Show Sunday evening.
Sectional play will begin Friday, October 25. The state tournament will then culminate on Thanksgiving weekend at Lucas Oil Stadium in Indianapolis.
Home teams for the first round were determined by a blind draw. The team without a home game in the first round will host the semifinals. If both teams were hosts in the first round, the second-named team on the bracket will host. The championship round will be hosted by the team that has played the most away games.
Pairings for are teams is listed below.
Class 4A Sectional 23 (8 teams)
G1: Greenwood at Madison
G2: Silver Creek at East Central
G3: Jennings County at Martinsville
G4: Mooresville at South Dearborn
G5: Winner G1 vs. Winner G2
G6: Winner G3 vs. Winner G4
Championship: Winner G5 vs. Winner G6
Class 3A Sectional 31 (8 teams)
G1: Brownstown Central at Charlestown
G2: Scottsburg at Lawrenceburg
G3: Batesville at Rushville
G4: Franklin County at Greensburg
G5: Winner G1 vs. Winner G2
G6: Winner G3 vs. Winner G4
Championship: Winner G5 vs. Winner G6
Class 2A Sectional 39 (8 teams)
G1: Providence at Clarksville
G2: Eastern at Union County
G3: Paoli at Switzerland County
G4: Mitchell at Triton Central
G5: Winner G1 vs. Winner G2
G6: Winner G3 vs. Winner G4
Championship: Winner G5 vs. Winner G6
Class 1A Sectional 47 (8 teams)
G1: Milan at Knightstown
G2: Oldenburg Academy at Hagerstown
G3: South Decatur at Tri
G4: Cambridge City Lincoln at North Decatur
G5: Winner G1 vs. Winner G2
G6: Winner G3 vs. Winner G4
Championship: Winner G5 vs. Winner G6