This is the team's first season competing in Esports.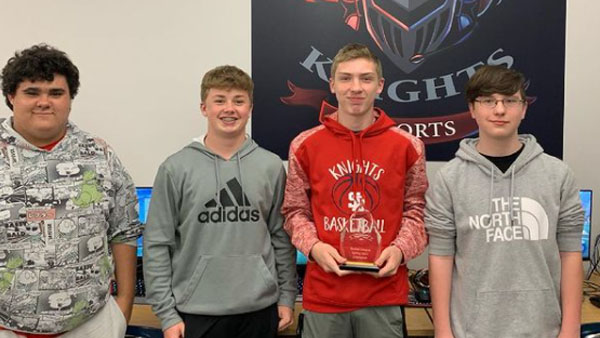 South Dearborn's Rocket League team with the trophy from the 2021 Carmel Greyhound Battleground Tournament. They will look to add to their trophy case tonight. Photo by SDHS_Esports.
(Aurora, Ind.) - The South Dearborn High School Esports Rocket League team is one win away from capturing a State Championship.
This week, South Dearborn's Blue Rocket League team defeated Marion in the semifinals of the Indiana High School Esports Network (IHSEN) Rocket League Spring A Division Tournament.
South Dearborn Blue, the tournament's top seed will take on #2 Kankakee Valley in the State Championship on Friday at 5:30 p.m.
The championship game will be streamed on the IHSEN Twitch.
Good luck to Logan Heeke, Kenny Jardee, Daymion Brightwell, and Hunter Garland.
Announcement!

Both of tonight's Rocket League Championship matches will be live streamed on https://t.co/J5sgsAolc2 with casters from @UGCevents. Streaming starts ~4:30 ET/3:30 CT @EsportsPortage vs. @CarmelEsports
and@KougarEsports vs. @sdhs_esports

— Indiana High School Esports Network (@IndianaHSEN) May 21, 2021