With guidance and influence from his mentors, George Gardner turned South Dearborn High School's wrestling into a perennial powerhouse in the EIAC.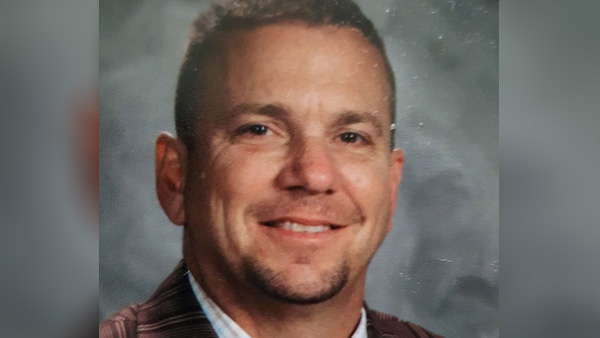 George Gardner has retired as South Dearborn High School wrestling coach. Photo provided.
(Aurora, Ind.) – For more than three decades, George Gardner molded kids at South Dearborn High School into fearsome forces on the wrestling mat.
Gardner, 56, retired as head wrestling coach at SDHS in May. His stellar head coaching career spanned 32 years, all at South Dearborn, to amass a 359-149 record in dual meets.
The son of a distillery employee, George Sr., Gardner points to his father when asked why he stayed dedicated to one program for so long.
"I didn't look for a better job or a better program or a bigger program. My dad worked 43 years at Seagrams. I am kind of like him – I get ahold of something and I get attached to it. I could have gone because I had offers, but I got attached to my program and stuck with it for 32 years," he says.
In 1981, he graduated from Lawrenceburg High School where he played football for legendary coach Dick Meador and wrestled for coach Glenn Crocker. Stephen Blackwell was also a coaching influence.
Gardner joined the Navy after high school. After his service, he decided he wanted to become a teacher and coach. After driving from California back to his hometown in 1985, he was asked by athletic director Bob Meyer to join the LHS wrestling program as an assistant coach under Jerry Bowell.
"If it wouldn't have been for that call, I probably would have been back in San Diego," shares Gardner.
He thanks Meyer and Bowell for giving him that first shot at coaching.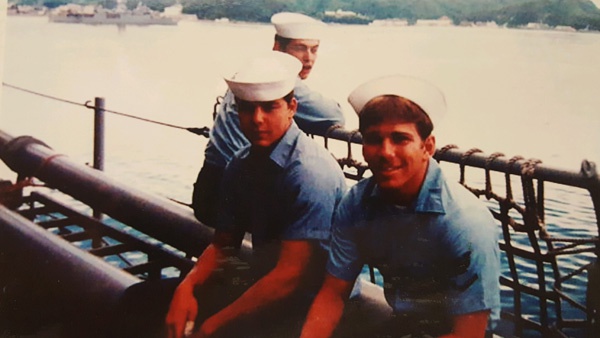 Gardner (right) in the Navy. Photo provided.
In 1987, he made the jump to South Dearborn to become a head coach. Success quickly followed in 1988 when he guided the Knights to the school's first Eastern Indiana Athletic Conference championship.
Gardner's list of accomplishments he, fellow coaches, and student athletes achieved are many. He guided SD to 11 EIAC titles. Nine times were his Knights sectional champions and six times did they win a team regional title. In 2008, 2015, and 2018 did his teams claim a "triple crown" in winning the conference, sectional, and regional.
He benefited from many outstanding wrestlers, including 18 state finals qualifiers, five of whom finished in the top eight in their weight class. Eighty-six have been EIAC champions, 81 sectional champs, 33 regional champs, and three semi-state winners.
Ask the coach to name the handful of athletes who most impressed him during his career, and he's reluctant.
"There are just too many," he says. "When you start thanking people, you don't want to leave anybody out. (Besides the 18 state finals qualifiers) I could rattle off a dozen other guys who were better but didn't get there."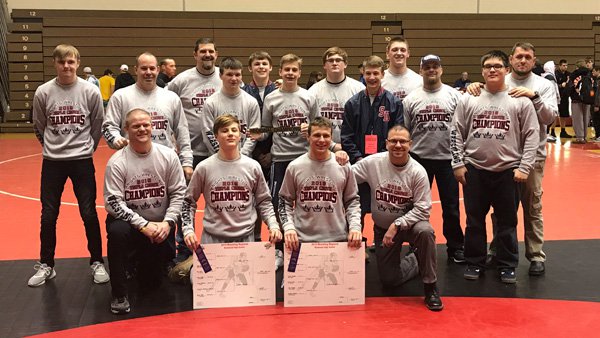 Gardner (far right) and the SDHS Knights after winning a second consecutive IHSAA wrestling regional in February 2019. Photo via South Dearborn High School Athletics.
What does he want The Gardner Era to be remembered for?
"I tried my best to make sure every kid felt like a vital part of the team. That sounds like something someone would say just to sound good, but we couldn't have won all those tournaments and had near the success if we concentrated on the best athletes. We got the most out of our program by getting the most out of those mediocre to average athletes like I was," he shares.
"I did my best in 32 years to try to promote wrestling in this area and in the South Dearborn community. Now it's time for somebody else to do that."
The sport has changed a little since he took over the South Dearborn program. Although he encouraged his wrestlers to play multiple sports, he acknowledges truly elite grapplers are those who focus on it from a young age.
"You have to start in elementary to become elite. It takes thousands of hours of mat time," he explains
Leaving coaching won't be easy.
"I will miss the kids who were so thankful you were there to help them."
He gives special thanks to longtime assistant coaches he worked with, including Brad Fentress, Chris Nobbe and Cary Lane.
Though he'll be most remembered for wrestling, Gardner coached many other sports in the school corporation. He dedicated 13 years of football including eight seasons as a middle school head coach, and two seasons as varsity football assistant in 1996 and an undefeated regular season. In addition, he also coached girls track, cross country, girls soccer, and elementary girls basketball.
He may be retired from coaching, but Gardner is still teaching part-time at South Dearborn Community Schools as well Ivy Tech Community College. He has been a middle school science teacher for 28 years, using a "hand-on" learning method.