The ORVC released its all-conference teams on Monday.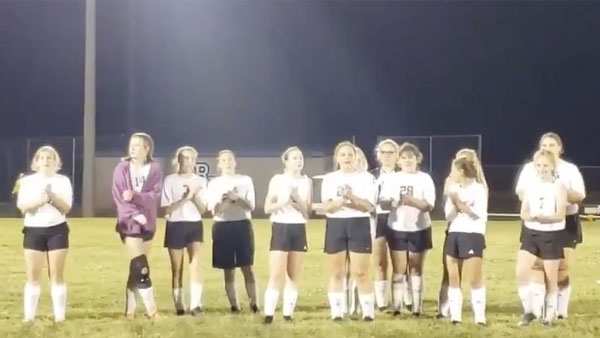 Milan placed four players on the All-Conference Team. Photo by Milan Athletics.
(Milan, Ind.) – It was a great year of soccer for the Milan Lady Indians and the Switzerland County Lady Pacers.
Both shared the Ohio River Valley Conference championship after going 7-1 in conference play.
On Monday, the ORVC released its 2020 Girls Soccer All-Conference Team and award winners.
Milan had four all-conference selections, Riley Clark, Alyssa Phelps, Audrey Schmidt, and Maggie Schmidt. For Switzerland County, Halle Archer, Raylinn Kappes, and Kenzie Taylor made all-conference.
Rising Sun and South Ripley were well represented on the all-conference team with five total selections.
The 2020 ORVC Co-Coaches of the Year are Scott Schmidt (Milan) and Courtney Dayadharum (Switzerland County).
Southwestern's Brooklyn Sachleben was named the 2020 ORVC Mental Attitude Award.
2020 ORVC GIRLS SOCCER ALL-CONFERENCE TEAM
Halle Archer, Switzerland County
Maddy Bovard, Rising Sun
Isabel Brooks, Southwestern
Olivia Bruce, Southwestern
Olivia Cavanaugh, South Ripley
Riley Clark, Milan
Lena Conradi, South Ripley
Jessica Esquivel, Southwestern
Kieran Groover, Rising Sun
Raylinn Kappes, Switzerland County
Alyssa Phelps, Milan
Kylie Reuter, South Ripley
Audrey Schmidt, Milan
Maggie Schmidt, Milan
Kenzie Taylor, Switzerland County