South Ripley's girls and Southwestern's boys were crowned team champions at the ORVC Meet.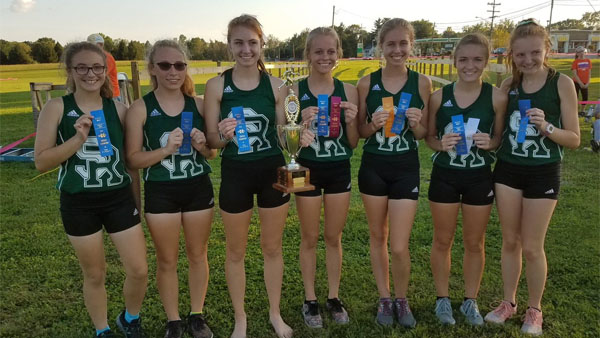 (Versailles, Ind.) – The Ohio River Valley Conference has named its 2018 Boys and Girls Cross Country All-Conference teams.
The South Ripley Lady Raiders and Southwestern Rebels took home the team championships at the ORVC Meet at Hanover College on September 29.
For South Ripley, it was their first ORVC Girls Cross Country Championship since 1996. Megan Cole was the individual champion with a time of 19:56. The top three was rounded out by Switzerland County's Leah Anders and South Ripley's Elyse Hunger.
The 2018 ORVC Co-Mental Attitude Award went to Milan's Alyssa Brinkman and Shawe Memorial's Lauren Lundergan.
South Ripley coach Jim Cole is the 2018 ORVC Girls Coach of the Year.
On the boys side, Southwestern won the ORVC meet for the fourth consecutive year. The Rebels top runner, Bradley Winston was the individual winner, followed by JCD's Damon Hughes and Shawe Memorial's Leon Kinne.
Milan's Kevin Thielmann was named the 2018 ORVC Mental Attitude Award winner and Coach of the Year went to Southwestern's Zac Nussbaum.
The 2018 Boys and Girls Cross Country All-Conference teams are listed below.
BOYS
Bradley Winston, Southwestern - 17:22
Damon Hughes, Jac-Cen-Del - 17:53
Leon Kinne, Shawe Memorial - 18:07
Gavyn Mundt, Southwestern - 18:11
Bryan Avalos, Shawe Memorial - 18:12
Trevor Smith, Southwestern - 18:24
Dalton Vinup, Rising Sun - 18:51
Todd Menchhofer, Jac-Cen-Del - 18:57
Caleb Geary, Southwestern - 19:01
Garrett Demaree, Switzerland County -19:05
Brandon Smith, Southwestern -19:32
Tanner Dilk, Jac-Cen-Del - 19:39
GIRLS
Megan Cole, South Ripley -19:56
Leah Anders , Switzerland County - 20:52
Elyse Hunger, South Ripley - 21:52
Lauren Lundergan, Shawe Memorial - 22:03
Kayla Simon, Jac-Cen-Del - 22:33
Emily Campbell, South Ripley - 22:42
Alyssa Brinkman, Milan - 22:52
Alisha Detmer, Switzerland County - 22:59
Keirstan Oeffinger, Switzerland County - 23:03
Cloey Simon , Jac-Cen-Del - 23:05
Matty Anderson, Switzerland County - 23:06
Katie Minch, South Ripley -23:26