Friends and family of Marigrace Anderson won't have to travel too terribly far to see her play at college.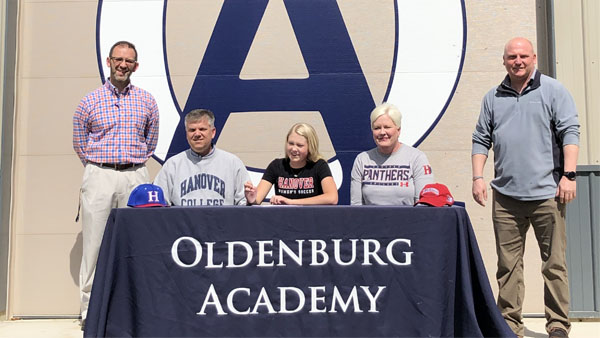 Marigrace Anderson signs her letter of intent to play soccer at Hanover College. Photo by Oldenburg Academy Athletics.
(Oldenburg, Ind.) – An Oldenburg Academy soccer star is staying in state to play at the collegiate level.
Marigrace Anderson recently signed her letter of intent to continue her academic and athletic career at Hanover College.
Anderson will join a Hanover team that finished the 2018-19 season with a 17-2 record, including a perfect 9-0 record in the Heartland Collegiate Athletic Conference.
Marigrace is the daughter of Jamie and Amy Anderson of Batesville.