Among the top performers were David Carpenter, Peyton Cavins and Alijah Craig.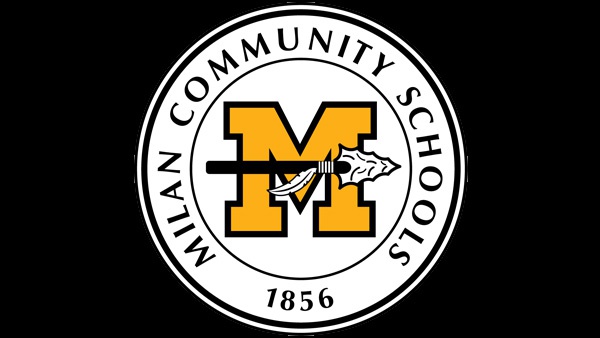 (Milan, Ind.) – It was a great week for Milan student-athletes as three spring sports standouts earned weekly honors from the Ohio River Valley Conference.
The ORVC report for the week of April 22-27 was released on Tuesday.
Milan's David Carpenter and Rising Sun's Jacob Bovard were named the ORVC Baseball Players of the Week.
Carpenter pitched a complete game shutout against Shawe Memorial. He also tallied three hits, three runs and two RBIs at the plate.
Bovard earned weekly honors by going 3-for-4 with three runs, three RBIs and three stolen bases.
South Ripley's Alexa Heidt is the ORVC Softball Player of the Week. The Lady Raiders star had a big week with nine hits, seven runs, seven RBIs, three doubles, two triples and a home run in four games.
The ORVC Boys Golfer of the Week is Shawe Memorial's Chandler Cole. He shot 87 at Sunrise.
Milan's Peyton Cavins and Alijah Craig were joined by South Ripley's Megan Cole as the ORVC Track & Field Performers of the Week.
Cavins set a new school record in the 100-meter dash with a time of 10.81.
On the girls side, Craig won the 100-meter and 200-meter races, while Cole set a new school record in the 1600 meters and an EC Invitational record in the 3200 meter race.
A full list of top performers for the week of April 22-27 is listed below.
BASEBALL
Logan Drockelman (JCD) hit, run, 2B vs. Southwestern
Zach Gentile (SR) 5 hits, 4 runs, 3 SB, 2B in 2 games
Bryce Franklin (SR) 3 hits, 2 runs, 2 RBI, 2 SB / 7 IP, 3 hits, ER, 10 K's in win
Bryer Franklin (SR) 4 RBI, 2 hits, 2B, SB / 6 IP, 1 ER, 3 hits, ER, 12 K's in win
Treyton Robbins (M) 4 hits, 2 runs, 2 RBI, 2 2B in 2 games
Zach Weaver (SC) 5 hits, 4 RBI, 2 2B in 2 games
Damion Courter (SC) 3 hits, 2 runs, 2 SB, RBI in 2 games
Johnathan Jimenez (RS) 2-2, 3 RBI, 2 runs in win
Steven Jimenez (RS) GC win with 0 ER and 6 K's
SOFTBALL
Kristen Snodgrass (SM) 4 hits, 3 runs, RBI, 3B in 4 games
Johanna Leatherman (SM) 4 hits, 4 RBI, 2B in 4 games
Sydney Bostic (RS) 5 RBI, 3 hits, 3 runs, 2B, SB, 16 putouts in 3 games
Sydney Pitts (RS) 18 IP, 5 ER, 14 K's going 2-1 last week
Cora Poling (RS) 5 hits, 3 RBI, run, 23 putouts in 3 games
Kailey Burns (SW) 3 hits, run in 2 games
Cadence Humes (SW) 2 hits, RBI in 2 games
Trinity McLain (SW) 2 hits, RBI in 2 games
Courtney Bruns (M) 4 hits, 3 runs, 2 RBI, 2 SB in 6 games
Abby Ferreria (M) 6 hits, 5 runs, 2 RBI, 2 2B, 2 SB in 6 games
Erin Widener (M) 5 RBI, 4 hits, 2 runs, 2B in 6 games
Emma Tunny (JCD) 2 hits, run, RBI vs. Madison
Shaylee Volz (JCD) 2 hits vs. Madison
Allie Bruce (SC) 4 hits, 4 runs, 3 RBI, 2 2B in 2 games
Jessie Duvall (SC) 6 hits, 4 runs, 2 RBI, 2B in 2 games
Madeyln Tompkins (SR) 7 hits, 7 RBI, 5 runs, 3 2B / 11.3 IP, 8 runs, 1 ER, 18 K's going 1-1
Ellie Waldron (SR) 8 hits, 7 runs, 3 RBI, 2B / 13.6 IP, 9 runs, 4 ER, 15 K's going 2-0
BOYS TRACK GIRLS TRACK
Mark Adams (SR) 111'3" Discus Copeland(SR)/Volz (JCD) 89'2"
Mark Adams (SR) 41'9" Shot Put Cierra Copeland (SR) 33'6"
K. Montgomery (RS) 19'5½" Long Jump Kylie Eccles (SW) 14'2½"
Owen Bates (SW) 6'3" High Jump Cionna Bailey (M) 4'11"
Daniel Daugherty (RS):16.41 High Hurdles Lauren Lundergan (SM) :17.45
Caleb Ream (SW) :42.92 Low Hurdles Cloey Simon (JCD) :49.30
Peyton Cavins(M) :10.81 * 100 Alijah Craig (M) :12.87
Peyton Cavins (M) :22.88 200 Alijah Craig (M) :28:06
Matthew Riehle (M) :51.03 400 Kinsey Price (RS) 1:04.4
Leon Kinne (SM) 2:09 800 Megan Cole (SR) 2:34
Bradley Winston (SW) 4:53 1600 Megan Cole (SR) * 5:21.5
Bryan Avalos (SM) 11:52 3200 Megan Cole (SR) ** 11:16
Milan :50.70 400 relay Milan :57.50
Milan 3:59 1600 relay Southwestern 4:44
Jac-Cen-Del 10:37 3200 relay South Ripley 11:13
* - new school record
** - new meet record