The Milan 54 Museum knows about miracles. Now, the museum is hoping to raise $2 million to create an endowment named for its founder.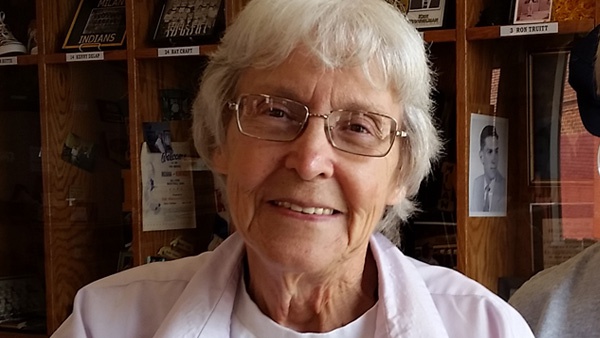 Milan '54 Museum founder Roselyn McKittrick died on Saturday, March 16. File photo.
(Milan, Ind.) - The Milan 54 Museum has created a fund to honor its founder, Roselyn McKittrick.
McKittrick, perhaps the biggest fan of the 1954 boys basketball state champs, died in March at the age of 84. She led the creation of the museum back in 2000. Since then, the museum has expanded and now attracts basketball fans from across the country and around the world.
The Milan 54 Museum is aiming to raise $2 million for the new Roselyn McKittrick Endowment Fund by 2022. Museum board president Tom Kohlmeier says the fund would allow future generations to relive the Milan story.
"We honor the legacy of Roselyn McKittrick, the founder of the museum and a person who devoted her life's work to preserving the rich history of the 1954 Milan team," said Kohlmeier.
The 65th anniversary of tiny Milan High School's historic win over big-school Muncie Central in the state championship game was marked this past Saturday, June 22 as players and museum supporters gathered for a reunion in Milan.
Bobby Plump, who sank the last-second, game-winning shot in the 1954 title game, said Roselyn is the person who extended the history of the Milan Miracle.
"Her founding of the museum to honor the 1954 championship has led to people from all 50 states and more than 30 countries to visit our little town of Milan, Indiana. With her passing, we truly lost a Milan Indian who was not even in Milan when we won the state championship. It is proper and fitting that an endowment memorializing Roselyn McKittrick be established and will forever recognize her many, many contributions both to the town of Milan and to our team's history," stated Plump.
Roselyn's son, Dennis, said the family was extremely honored with the establishment of the endowment.
"This is a wonderful way to honor our mother and will serve as a tremendous testament to her legacy and rich history with the museum," Dennis said.
Museum board member Graham Honacker said the fundraising effort over the next three years will include an active campaign of events, promotions, a website, and social media.
Those wishing to make a gift, multi-year pledge, or planned gift to the Roselyn McKittrick Endowment can do so by going to the museum's website at www.milan54.org or calling Tom Kohlmeier (317) 409-5203.
RELATED STORIES: