The sophomore led the Wolverines with 32 wins and 13 falls last season.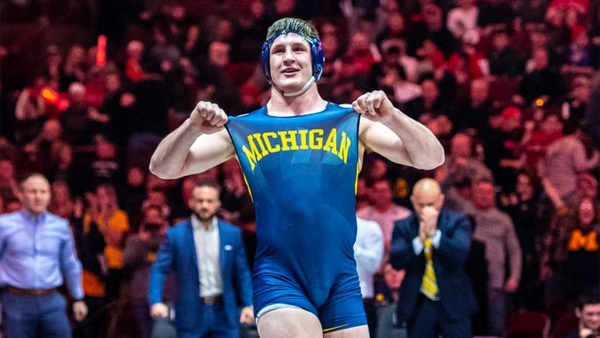 Photo by Michigan Wrestling.
(Ann Arbor, Mi.) – He's only a sophomore but Mason Parris is already captaining his college wrestling team.
Michigan Wrestling made the announcement on November 7. Parris will co-captain the team with fifth-year senior Jackson Striggow.
Parris, a Lawrenceburg native, led the Michigan Wolverines with 32 wins and 13 falls as a freshman. He also posted a 3-2 record at the NCAA Championships, reaching the Round of 12.
If that wasn't impressive enough, Parris capture the 125kg freestyle title at the Junior World Championship this summer.
Parris is currently the 5th ranked heavyweight in the nation. He posting a 5-0 record at the Michigan State University Open and defeated North Carolina heavyweight Andrew Gunning (ranked 20th) by a 4-0 decision.