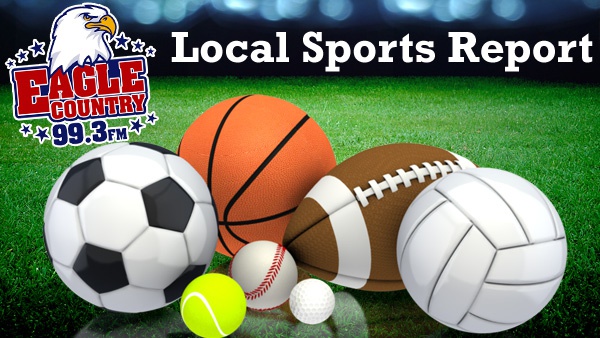 Friday night football and Saturday sports scores can be found here.
Please report missing scores and statistics to 888-537-9724 or email sports -at- eaglecountryonline.com.
FRIDAY, SEPTEMBER 13
FOOTBALL
South Dearborn 39, Connersville 0 – Eagle Country 99.3 Feature Game
East Central 35, Franklin County 0 – East Central out-gained Franklin County 308 yards to just 85 in the game. EC running back Jake Fike had 9 carries for 110 yards and three touchdowns. QB Ryan Bond was 7-of-14 passing for 86 yards, with a touchdown pass to Mac Studer. Franklin County's Josh Bauman had 21 carries for 75 yards.
Lawrenceburg 49, Greensburg 17
Milan 42, South Decatur 6 – Milan QB Parker Lewis was great, going 11/16 for 180 passing yards with three touchdowns, plus 42 rushing yards. Peyton Wert caught two TDs as part of his 126 receiving yards and ran in two TDs on 15 yards rushing. Carsyn Ascherman caught 4 balls for 11 yards and a TD. Cole Steele ran 15 times for 101 yards. Riley Johnson added 5 rushes for 49 yards and a score.
Batesville 25, Rushville 20
Switzerland County 22, Edinburgh 14 – double overtime - Switzerland Co. led 6-0 at half and were tied at 6 with Edinburgh at the end of regulation as the Pacers go on to defeat the Lancers in double OT.
North Decatur 39, Oldenburg Academy 6 – Abe Peetz had a rushing TD for Oldenburg.
BOYS SOCCER
Rising Sun 1, Jac-Cen-Del 1 – Rising Sun's goal was made by Landon Cole off an assist from Dylan Martin. Patrick Wagner found the back of the net for JCD.
SATURDAY, SEPTEMBER 14
BOYS SOCCER
East Central 2, Lawrenceburg 1 – With the game tied 1-1 after regulation, East Central won a shootout 5-4. Brady Spangler scored EC's normal goal off an assist from JT Roden. EC penalty kicks were made by Eric Puterbaugh, Colden Whitt, Jules Breukers, JT Roden and Brady Spangler.
South Ripley 5, Southwestern 1
Oldenburg Academy 0, Seymour 0 – tie
BOYS TENNIS
East Central 3, Columbus East 2
Final from St. Leon: East Central 3-2 over the Olympians of Columbus East. #10-2 #Winning Logan Huismann, 1 Dubs @bovard_zach and Max Daniels, 2 Dubs @RayKrider and Clayton Ellis. #ECtennis @ECTrojanSports @tblacksunmande1 @eagle993 @SDCS_SUPER @TrojansATC

— East Central Tennis (@ECTrojanTennis) September 11, 2019
Columbus North 5, Batesville 0
CROSS COUNTRY
East Central ran at the Brown County Invitational on Saturday. The EC boys places ninth out of 20 teams and the girls were 13th out of 19. EC boys were led by Griffin Werner at 17:50, and leading the Lady Trojans was Rachel Campbell at 21:54.
Massive Boys' Varsity race. And they're off! pic.twitter.com/2c4OOA4660

— EC Cross Country (@kdwedding) September 14, 2019
Batesville boys finished third and the girls were sixth at the 10-team Ben Davis Invitational on Saturday. BHS' Adam Moster finished eighth with a time of 16:37. The Lady Bulldogs were led by Avan Henson in eighth at 19:27.
Franklin County boys and girls each placed seventh at the Randolph Southern Invitational on Saturday. Lauren Kelleywas the top finisher for Franklin County, placing third with a time 20:57. Drew Grant was the FC boys' best in 25th at 18:40.
GIRLS GOLF
Greensburg won the EIAC Girls Golf Championship on Saturday at Hillcrest Country Club. Greensburg's team score was 365, followed by Franklin County at 375, Batesville 388, Connersville 407, East Central 422, Lawrenceburg 434, Rushville 460 and South Dearborn turning in an incomplete. The conference individual champ was Batesville's Emma Weiler, who carded a round of 75.
Batesville's Emma Weiler claims individual medalist honor at today's EIAC golf tournament. Lady Bulldogs finish 3rd as a team. pic.twitter.com/1qDgnRrulO

— Batesville High School (@BulldogsBville) September 14, 2019
GIRLS SOCCER
Columbus North 3, Lawrenceburg 1
South Dearborn 1, Connersville 0 – Abby Hensley scored after an assist from Hailey Huber.
Mount Notre Dame (Ky.) 1, East Central 0
Batesville 8, Franklin County 0 – Carlie Werner and Abbey Prickel each netted two goals for Batesville.
Oldenburg Academy 1, New Castle 1 – Kat Wilder scored the goal for Oldenburg.
VOLLEYBALL
Tournament
East Central 2, West Lafayette 0 – 25-22, 25-11
Zionsville 2, East Central 0 – 25-16, 25-15
Batesville 2, South Ripley 0 – 25-11, 25-23
Greensburg 3, Franklin County 0 – 25-16, 25-18, 25-7
Tournament
Seymour 2, Rising Sun 0 – 25-6, 25-5
Connersville 2, Rising Sun 0 – 25-21, 28-26
Pike 2, Rising Sun 0 – 25-14, 25-21