East Central, Lawrenceburg and South Dearborn were all winners in football. Plenty of other sports action over the weekend.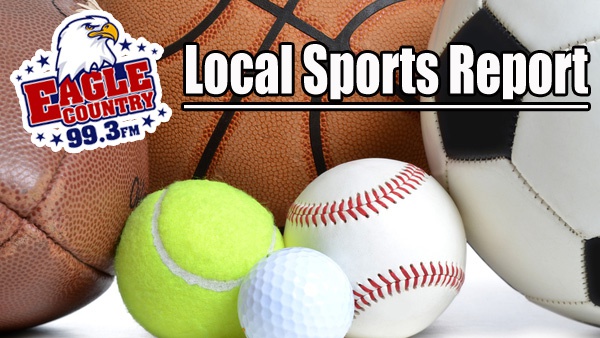 To report local sports scores and stats, email news@eaglecountryonline.com.
FRIDAY, SEPTEMBER 11
FOOTBALL
East Central 36, Franklin County 12 (Eagle Country 99.3 Feature Game) -
South Dearborn 21, Connersville 19 - The Knights racked up 300 yards of offense on the way to their third win of the season (3-1, 1-0 in EIAC 4A). Blake Bartley led the way for SD with 191 yards rushing a two touchdowns. C.J. Rogers added a touchdown for the Knights, which proved to be the game-winning score in the 4th quarter.
Lawrenceburg 56, Greensburg 14 - Lawrenceburg won their third-straight game behind 498 yards of total offense. Garrett Yoon went 14-19 for 237 yards and two touchdowns. Yoon added two more scores on the ground. Dayha Patel had 7 catches for 112 yards and a score. Aiden Gilmour caught two passes for 84 yards and a TD. Teagan Bennett added two TDs in the second half for the Tigers. Luke Pierce also scored.
North Decatur 44, Oldenburg Academy 0
Batesville 44, Rushville 14
Harrison 31, Mount Healthy 21
Taylor 20, Reading 13
BOYS SOCCER
Jac-Cen-Del 5, Rising Sun 0
SATURDAY, SEPTEMBER 12
FOOTBALL
Edinburgh 49, Switzerland County 14
BOYS SOCCER
East Central 4, Lawrenceburg 1
EC with a 4-1 win over Lawrenceburg today!
❤️❤️⚽️⚽️🖤🖤
Goals by:
Brady Spangler-2 and JT Roden-2.
Assists by Luke Hornbach, JT Roden-2 and Brady Spangler.

JV fell 0-2.

— EC Mens Soccer (@ECMensSoccer1) September 12, 2020
South Dearborn 10, Union County 3 - Dana Lewis and Tanner Hughes each recorded a hat trick for the Knights. Zander Clayton scored twice and Nakia Scruggs and Andrew Estanislao scored a goal each.
Greensburg 3, Switzerland County 1
GIRLS SOCCER
South Dearborn 4, Connersville 1
VOLLEYBALL
Ripley County Tourney
Batesville 2, South Ripley 0
Batesville 2, Milan 0
Ripley County Volleyball:
Batesville 30/25
Milan 28/22
Ripley County Champs.

— Batesville High School (@BulldogsBville) September 12, 2020
Tournament
Pike 2, Rising Sun 0
Rising Sun 2, Connersville 0
Seymour 2, Rising Sun 0
JV handled all the winning today going 3-0 to bring the championship home from Zionsville. Varsity went 0-3 on the day. Congrats on a hard fought day, ladies! @ECTrojanSports pic.twitter.com/Hy8lV38I1w

— EC VOLLEYBALL (@EastCentralVB) September 12, 2020
CROSS COUNTRY
Brown County~ Rachel Campbell takes 2nd overall; teams take 9th and 10th (submitted by Jonathan Meyer)
The Brown County invite, known as The Eagle Classic, hosts some of the biggest and best teams in the state. The meet has 70 teams that compete. If you start doing some math: (70 teams that have a minimum of 7 runners = 490 runner) then x2 for boys and girls, that is well over 1,000 athletes that run Varsity (let's not forget about JV runners as well). This being the case, and with large crowds being a huge scare during COVID 19, Brown County High School did everything possible to not have the race canceled. They ran smaller schools on Friday night, which cleared out 20 teams. They also extended the time between races on Saturday and asked teams to depart as soon as they finished their races. The meet was organized very well, and Brown County should be given great affirmation for allowing these young people to compete!
The East Central Trojans ran extremely well today. In the Girls race, every Trojan runner ran a personal record (all time best). Jada Hicks dropped 38 seconds and Jocelyn Inderhees dropped 18. The biggest time drop was from Jessica Bender, who knocked off 1:10, finishing in 23:08. She was the 4th runner for the girls today. In front of her were Faith Henderson who dropped 10 seconds running a 22:13, and Kendal Pflum in 21:46 who dropped 24 seconds from her personal record. Leading the entire race from the first 1K and battling back and forth with the number one runner from Pike High School was sophomore Rachel Campbell. Rachel went out and stayed out, it was a beautifully executed run. She dropped 46 seconds from her personal record running a 19:29. This new personal record, early in the season, puts her in 4th place for All Time 5K Runs by Lady Trojans. She follows: Kristal Studer- 18:35, Abby Bittner 19:01, and Lauren Greiwe 19:12. Rachel was in tears after the race, overwhelmed with her accomplishment, she was awarded a 2nd place medal after the race. The entire team was full of smiles and looks forward too many more accomplishments as the season unfolds. Hannah Doan did not run today due to an injury; we hope that some rest will bring her back to racing soon. The girl's placed 10th in a field of 22 teams.
In the boy's race there was great success. The boys took 9th place out of 21 teams. The boys had a sold pack in the race that heled them to compete well. The top 5 scoring Trojans were as follows: Griffin Werner-25, Michael Schwebach-29, Parker Fleming- 48, Owen Hagen-54 and JJ Stenger-68. These men ran some fast times. All of them ran their season best (best time this year) and several ran their personal record (fastest time ever). Griffin Werner, who was awarded a top 25 ribbon, dropped 1:03 from last weekend and ran his fastest 5k ever in a 17:35. Schwebach tied his fastest time of the year, but was 22 seconds of last year's best time. Fleming dropped 25 seconds off last week, and is only 13 seconds off last year with a 18:07. Hagen ran his fastest time ever, with an 18:14. Stenger dropped 50 seconds from last week, running an 18:28 today. Other great races today were Logan Hicks who dropped 34 seconds running a 19:04, John Hotel in a 19:27, Brody Sandlin in a 19:48. Ethan Campbell who dropped 31 seconds running a 20:28 and David Massingale who dropped 1:13 and ran a 22:30. Overall we keep seeing faster times and better racing, they are responding to training and improving well. Reily Small and Nico DiMeglio did not run today, but will be back next week when the team competes at the South Dearborn Invite.