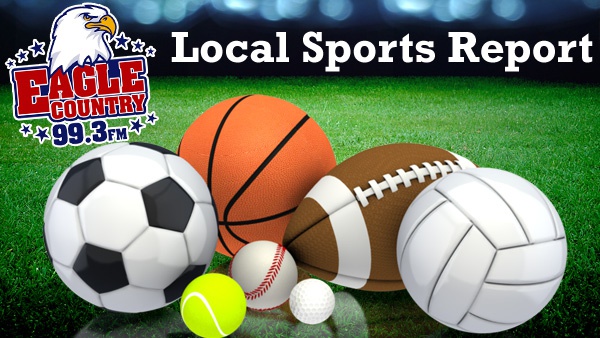 East Central boys and girls track teams repeated as EIAC champions Thursday.
Please report missing scores and statistics to 888-537-9724 or email sports -at- eaglecountryonline.com.
BASEBALL
Franklin County 5, Lawrenceburg 2 – FC pitcher Garrett Ertel pitched a complete game for the win. Lawrenceburg's runs were knocked in by Ethan Weimer and Mason Kennedy.
Greensburg 12, East Central 9 – EC's offense was led by Logan Huisman, who was 2-for-4 with a home run, 3 RBI and a run scored. Devin Salyers added a hit and 2 RBI.
Batesville 8, Rushville 1 – Batesville starter Caleb Raab finished the game with 7 strikeouts, 4 hits, 1 walk, and an earned run to get the victory. Trey Heidlage had a triple and 2 RBI to fuel the Batesville offense.
South Ripley 14, Switzerland County 12
SOFTBALL
East Central 13, Lawrenceburg 0 – A 5-inning no-hitter was thrown by East Central's Dianna Sprague. She struck out four batters and did not give up a hit or a walk. Megan Kincer was 1-for-3 with 2 RBI and a run scored. Rachel Rack hit a homer with 3 RBI. Lindsay Henson added a double and 2 RBI.
South Dearborn 11, Franklin County 1
Rising Sun 11, Switzerland County 0 – Rising Sun dominated this game. Starter Sydney Bostic tallied 6 strikeouts while giving up just 2 hits and a walk in 5.0 innings. At the plate, Lindsay Montgomery hit three doubles and racked up 5 RBI.
Milan 8, Southwestern 4 – Milan's Cassie Franklin had a couple hits with a double and 3 RBI to lead the Indians on offense. Kaitlyn Tuttle chipped in a hit and 2 RBI. Taryn Cline pitched all 7.0 innings with 8 Ks, 5 hits, 2 walks, and 2 earned runs to earn the win.
TRACK & FIELD
Eastern Indiana Athletic Conference Championships
The EIAC Championships were held at Franklin County High School on Thursday, with the East Central boys and girls teams emerging as the conference's 2019 champions.
Girls team scores: East Central 154, Franklin County 95, Batesville 92.5, Greensburg 84, Rushville 70, Connersville 58, South Dearborn 40.5, and Lawrenceburg 30.
Boys team scores: East Central 125, Rushville 120.5, Batesville 108, Franklin County 80, Greensburg 65, Connersville 57.5, South Dearborn 34, and Lawrenceburg 32.
Individual event conference champions are listed below. Find full meet results at http://www.stuartroadracing.com/track/2019-5-9%20EIAC%20Results.htm.
Girls 100 Meter Dash – Eva Grimm, East Central, 12.48 (new conference record)
Girls 200 Meter Dash – Eva Grimm, East Central, 25.92
Girls 400 Meter Dash – Emma Fey, East Central, 1:01.37
Girls 800 Meter Run – Brenner Hanna, Greensburg, 2:23.46
Girls 1600 Meter Run – Brenner Hanna, Greensburg, 5:28.60
Girls 3200 Meter Run – Brenner Hanna, Greensburg, 12:24.06
Girls 100 Meter Hurdles – Megan Sierra, East Central, 15.87
Girls 300 Meter Hurdles – Eva Quinlan, South Dearborn, 46.39
Girls 4x100 Meter Relay – Franklin County, 50.43
Girls 4x400 Meter Relay – East Central, 4:04.43 (new conference record)
Girls 4x800 Meter Relay – East Central, 9:54.73
Girls High Jump – Charity Griffith, Rushville, 5'2"
Girls Pole Vault – Anna Schatzle, Franklin County, 10'0"
Girls Long Jump – Ashlan Hill, Franklin County, 17'1/2"
Girls Shot Put – Lily Grimes, Greensburg, 40'11"
Girls Discus Throw – Lily Grimes, Greensburg, 110'2"
Boys 100 Meter Dash – Alex Hornbach, East Central, 11.19
Boys 200 Meter Dash – Alex Hornbach, East Central, 22.67
Boys 400 Meter Dash – Jame Kuisel, Batesville, 52.46
Boys 800 Meter Run – Adam Moster, Batesville, 1:58.79
Boys 1600 Meter Run – Joshua Myers, Batesville, 4:42.15
Boys 3200 Meter Run – Ean Loichinger, Batesville, 10:10.97
Boys 110 Meter Hurdles – Brady Bogan, Franklin County, 15.78
Boys 300 Meter Hurdles – Chase Ludwig, East Central, 41.59
Boys 4x100 Meter Relay – East Central, 44.27
Boys 4x400 Meter Relay – East Central, 3:31.24
Boys 4x800 Meter Relay – Batesville, 8:23.07
Boys High Jump – Kent Meyers, Batesville, 5'10"
Boys Pole Vault – Keith Hallgarth, Rushville, 14'0" (new conference record)
Boys Long Jump – Daimon Austin, Greensburg, 10'6.75"
Boys Shot Put – Michael Medlock, East Central, 50'4"
Boys Discus Throw – Michael Medlock, East Central, 146'1"