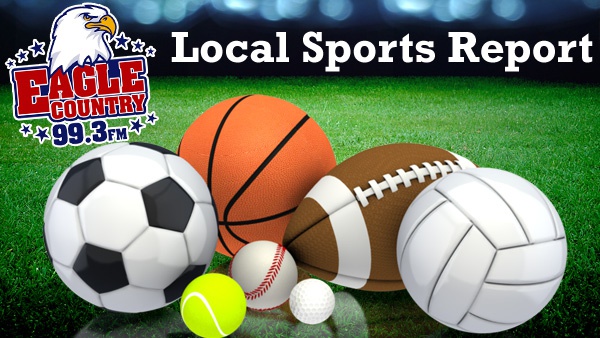 Rising Sun and East Central met in a big softball battle Wednesday afternoon.
Please report missing scores and statistics to 888-537-9724 or email sports -at- eaglecountryonline.com.
BASEBALL
Batesville 14, Lawrenceburg 2 – Batesville's Calvin Sherwood had the hot bat, going 5-for-5 with 4 RBI and a run scored. Trey Peters had two hits with a double, 3 RBI and 2 runs. Starter Sam Voegele pitched 6.0 innings with 5 strikeouts, 5 hits, no walks, and just one earned run allowed.
South Dearborn 10, Connersville 9 – South Dearborn's Tristan Rinehart had 3 hits and 2 RBI to lead the way offensively. Other runs were knocked in by Ethan Getz, Grant McLane, Adam Dixon, and Reese Willoughby. SD pitcher Trey Thies was credited with the win as he pitched two scoreless innings.
Rising Sun 9, Switzerland County 1 – Rising Sun starter Steve Jimenez locked down Switz with 10 strikeouts, 3 hits, no walks, and one unearned run allowed over 7 innings. Colby Ritter, Brayden Bush and Landon Cole each had 2 RBI for the Shiners.
South Ripley 6, Milan 3
SOFTBALL
Madison 11, Lawrenceburg 0
Rising Sun 10, East Central 6 – 1A #3 Rising Sun's Lindsay Montgomery had a big night with a home run and a double for 5 RBI and a run scored. Teammate Tyrrah Miller also hit a home run and had a single in racking up 2 RBI and a run. Rachel Rack led EC in going 2-for-3 with a double, 3 RBI and a run scored. Megan Kincer had a double and 2 RBI for the Trojans.
Milan 7, South Ripley 5 – Hailey Smith powered the Milan offense with a double and 4 RBI. Cassie Franklin and Mackinze Deffinger each had an RBI for Milan. Erin Widener earned the win for the Indians with 7 Ks, 7 hits, a walk, and 3 earned runs allowed in pitching all 7 innings. South Ripley's Maddie Tompkins took the loss despite getting 8 strikeouts and surrendering just two hits – all 7 runs scored against her were unearned. Tompkins, Wllie Waldron, Hailey Brown, and Alexa Heidt each had an RBI for the Raiders.
Jac-Cen-Del 13, South Decatur 0
Switzerland County 7, Oldenburg Academy 1
GIRLS TENNIS
East Central 5, Union County 0 – East Central is now 15-1 on the season.
Girls Tennis swept Union County tonight 5-0. Improved to 15-1 on the season. #ECtennis @ECTrojanSports @tblacksunmande1 @SDCS_SUPER pic.twitter.com/0xfhAfDJVK

— East Central Tennis (@ECTrojanTennis) May 8, 2019