Switzerland County's girls track and field team captured an ORVC championship Tuesday. Find local varsity sports scores with one click, presented by Beacon Orthopaedics & Sports Medicine.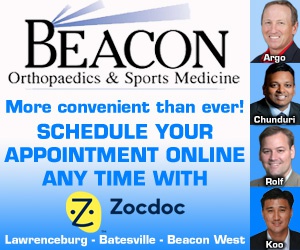 Please report missing scores to 888-537-9724 or email sports -at- eaglecountryonline.com.
BASEBALL
Batesville 2, Hauser 1 – Batesville's Caleb Raab dominated over 7.0 innings to earn the win. He recorded 7 strikeouts while giving up just three hits and no walks. Trey Heidlage was 1-for-3 with an RBI.
Union County 12, Franklin County 0
South Ripley 14, Shawe Memorial 0
GIRLS TENNIS
Lawrenceburg 3, South Dearborn 2 - Number one singles player Madison Fentress played well, had some great shots and beat out Averi McMullen 6-4, 6-1. Number two singles player Sydney Yoe took control of the match and the momentum early and did not let up as she defeated Gracie Safaviyan 6-2, 6-0. The deciding point came from number three singles players Ashley Stevenson and Lauren Karsteter, were Stevenson controlled the first set with great game play winning 6-1. The momentum quickly shifted in the second set as Karsteter won 6-1. The third set went back and forth, with Stevenson eventually falling 4-6. In doubles action, number one team of Brooklyn Cromer and Emily Seward played a great match against Olivia Lamb and Sheridan Houze. Neither team gave an inch as the Tigers took the first set in hard fought battle winning 7-6 (8-6) in a tiebreaker. The second set saw the host school find a way to control the set winning 6-4. Number two doubles team of Lacey Horn and Danielle Martini could not get the momentum on their side as they were defeated 1-6, 1-6 by Destiny Golden and Jasmyn Blackburn. -via SouthDearbornAthletics.com.
SOFTBALL
East Central 8, Batesville 0
Franklin County 3, Rushville 2
Milan 18, Southwestern 8 – Courtney Bruns had a home run and 3 RBI as part of a 4-for-4 night at the plate for Milan. K. Tuttle also had 3 RBI for Milan.
TRACK & FIELD
ORVC Girls Championship Meet
The Switzerland County Pacers claimed the Ohio River Valley Conference Track & Field Championship on Tuesday thanks to some impressive performances. They had 11 event winners: 4x800 meter relay, 4x100 meter relay, 4x400 meter relay, Leah Anders in the 800 meter run, and Aleiah Thomas in the high jump.
South Ripley's Megan Cole set an ORVC Championship meet record in the 3200 meter run, winning it in 11:43.09.
Team standings: Switzerland County (125 points), Milan (68), Southwestern (68), South Ripley (63), Jac-Cen-Del (52), Rising Sun (50), and Shawe Memorial (38).
Find full meet results at http://www.stuartroadracing.com/track/2018-5-8%20ORVC%20Girls%20Championship%20Results.htm.