It was a weekend chock-full of high school sports action. Find local varsity sports scores with one click, presented by Beacon Orthopaedics & Sports Medicine.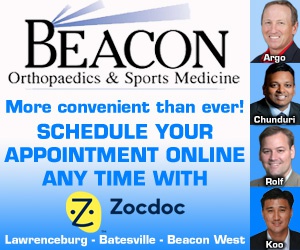 Please report missing scores to 888-537-9724 or email sports -at- eaglecountryonline.com.
FRIDAY, MAY 4
BASEBALL
Lawrenceburg 5, Madison 2 – Austin Weimer had a double and 2 RBI for LHS. He also allowed only 2 hits and no runs with 3 strikeouts in 2.0 innings pitching. Matt Ohlhaut pitched 5.0 innings with 3 strikeouts, 3 walks, 5 hits and an earned run.
Rising Sun 6, Switzerland County 3 – Rising Sun's Stephen JIminez went 1-for-3 with a triple, 2 RBI and a run scored. Brent Turner got it done pitching 7.0 innings with 8 Ks, 4 walks, 2 earned runs and 5 hits allowed.
South Ripley 8, South Decatur 0 – The Raiders were led to victory by Jackson Cornett, who went 3-for-3 with 3 RBI and 2 runs scored. Brady Linkel was masterful on the mound, going 7.0 innings with 5 hits, a walk, and 9 strikeouts.
SOFTBALL
Batesville 14, Rushville 0 – Batesville's Abby Westerfeld struck out 9 of the 18 batters she faced, giving up only 2 hits and no walks. Kylie Laker had 2 singles, a home run, and 3 RBI.
Rising Sun 10, Switzerland County 0 – Sydney Pitts held Switz to just 4 hits with 10 strikeouts in 5.0 innings to earn the win for Rising Sun. Lindsay Montgomery had a home run, 3 RBI and 2 runs on 3-for-4 hitting. Lucy Phelps also launched a solo home run.
Jac-Cen-Del 14, Southwestern 0 – Morgen Carroll provided the pitching and much of the offense for Jac-Cen-Del. On the mound, she went 5.0 innings allowing just one hit with a walk and 11 Ks. With the bat, she was 2-for-3 with a double, a walk, and 3 RBI. Teammate Nadya Hildebrand was 2-for-4 with a double, 3 RBI and a run scored.
SATURDAY, MAY 5
BASEBALL
South Dearborn 4, Charlestown 1 - What was scheduled as a 4-team tournament ended up as one 6-inning game as SD defeated the host Pirates 4-1 in a rain-soaked, shortened game. Derek Williams earned his second win of the season, pitching 4 innings and allowing just 1 earned run on 3 hits. He had 5 strikeouts to just 1 walk. Andy Dixon and Grant McLane combined to close out the other 2 innings without any further damage by Charlestown. Offensively, Brady Fentress got the scoring going for SD with an RBI double in the 3rd, driving in Tobie Teke who had walked. Later in the inning, Tristan Rinehart singled home Fentress with one of his two hits and the Knights were in the lead to stay. In the fourth, the Knights added on with a Tyler Morehead double, followed by an RBI single by Teke and another one by Ethan Getz. -SouthDearbornAthletics.com
Rising Sun 13, North Decatur 3 – Rising Sun's Landon Cole exploded for a double, triple, 5 RBI and a run scored. Colby Ritter added a double and 3 RBI. Stephen Jiminez pitched 4.0 innings with 4 Ks and 4 walks while allowing just 2 hits and 1 earned run.
South Ripley 14, Oldenburg Academy 6 – Freshman Bryce Franklin starred for South Ripley, going 2-for-5 with a triple, 4 RBI and a run scored. Jackson Cornett was 2-for-3 with 2 triples, 3 RBI and 2 runs.
South Ripley 13, Oldenburg Academy 1 – South Ripley hurlers Zach Pickett and Luke Welch combined to limit Oldenburg to 2 hits and 1 unearned run. Pickett had 7 walks, but also struck out 3. Welch recorded 3 Ks in his 1 inning of work. Welch also powered the Raiders offense 2-for-2 with 3 RBI and 4 runs. Cody Samples was 1-for-1 with 2 RBI, 2 runs, and 3 walks.
GIRLS TENNIS
Batesville 5, New Palestine 0
Batesville 3, Roncalli 2
SOFTBALL
Hauser 10, Lawrenceburg 0
Hauser 13, Lawrenceburg 3
Brownsburg 5, South Dearborn 2
Franklin County 14, Centerville 5 – Camryn Brewer pitched great in her first game, going 7.0 innings with 4 strikeouts, 4 hits, and 2 earned runs. Kamryn McCool drove in four runs to lead the FC offense.
Rising Sun 11, North Decatur 1 – Kassidy Romans was 1-for-2 with a triple, 3 RBI and 3 runs. Abby Wallace, Lindsay Montgomery, and Emma Levi each posted 2 RBI for the Shiners. Sydney Pittz got another win pitching 5.0 innings with 7 strikeouts, a walk, and just two hits allowed.