Milan boys golf won a three-way meet with South Ripley and Jac-Cen-Del on Monday. Find local varsity sports scores with one click, presented by Beacon Orthopaedics & Sports Medicine.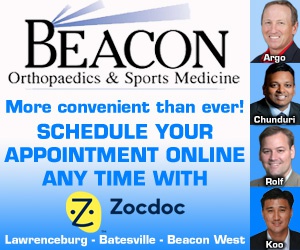 Please report missing scores to 888-537-9724 or email sports -at- eaglecountryonline.com.
BASEBALL
Lawrenceburg 9, East Central 5
Batesville 10, South Dearborn 0
Congratulations to the 4 Seniors on winning their last home game at Liberty Park 10-0 in 6inn against South Dearborn! pic.twitter.com/KctpGPgE5m

— Batesville Baseball (@BatesvilleBB) May 15, 2018
Rushville 6, Franklin County 4
Rising Sun 10, South Ripley 4 – Bradon Bush and Stephen Jiminez each had 2 hits and 2 RBI for Rising Sun. Bush and Brent Turner combined to strike out 9 South Ripley hitters in 7.0 innings.
Congratulations South Ripley Raider baseball seniors! Thank you for a great year. @SR_Raiders @SRipleySports pic.twitter.com/hXbWhpvsqa

— Rod Hite (@Rod_Hite) May 14, 2018
Milan 6, Southwestern 4
Switzerland County 12, Jac-Cen-Del 2
BOYS GOLF
East Central defeated North Decatur at North Branch Golf Course on Monday, 179-194. Kyle Leising and Josh Hudepohl both shot a 43.
Milan won a three-way meet with South Ripley and Jac-Cen-Del on Monday. Scoring was Milan 186, South Ripley 222, and JCD 223.
GIRLS TENNIS
Southwestern 4, Lawrenceburg 1
South Dearborn 4, Milan 1 - #1 singles South Dearborn's Madison Fentress defeated Megan Berger 6-0, 6-0. In #2 singles, SD's Sydney Yoe won over Maitri Patel 6-1, 6-0. #3 singles, SD's Ashley Stevenson defeated Jessica Starkey 6-0, 6-0. In doubles play, South Dearborn's Brooklyn Cromer and Emily Seward beat Abigail Riehle and Tori Haessig 6-4, 2-6, 11-9 in #1 doubles. #2 doubles was won by Milan's Tulsi Patel and Delaney Bushhorn defeated Lacey Horn and Danielle Martini 6-4, 7-5.
Jennings County 3, East Central 2
SOFTBALL
Greensburg 10, East Central 4
Connersville 9, Batesville 2 – Kara Obermeyer collected two hits and an RBI for Batesville.
Franklin County 4, Cambridge City Lincoln 1
Rising Sun 15, South Ripley 1 – Rising Sun's Sydney Pitts had herself a day. She got the pitching win, going 5.0 innings with 7 strikeouts while allowing only 2 hits and no walks. At the plate, Pitts went 4-for-4 with 3 RBI, a double, and a triple. Emma Levi added 4 hits for 3 RBI and 3 runs scored. Kassidy Romans was 2-for-4 with 3 RBI and 2 runs.
Milan 9, Trinity Lutheran 6 – Milan's Alexa Burton, Taryn Cline, and Abby Fierreira each had 2 RBI. Burton and Cline both had 3 hits in the game. Lexi Wert struck out 5, walked 3, allowed 4 hits, and gave up just two earned runs in 7.0 innings to earn the win.
Jac-Cen-Del 12, Switzerland County 0
Seton Catholic 6, Oldenburg Academy 3