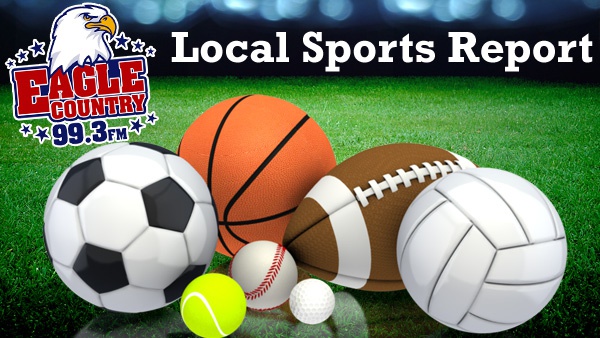 Franklin County pitcher Alex Bischoff pitched 9 innings of no-hit baseball while racking up a school record 20 strikeouts Monday.
Please report missing scores and statistics to 888-537-9724 or email sports -at- eaglecountryonline.com.
BASEBALL
South Dearborn 9, Batesville 2 – South Dearborn's Reese Willoughby had a great game. As the starting pitcher, Willoughby went 6 innings with 4 Ks, 5 hits, 3 walks, and one earned run. With the bat, he was 1-for-3 with 2 RBI. Ethan Getz added 2 hits with 3 RBI and 2 runs. Quinn Werner and Caleb Raab each had an RBI for Batesville.
Lawrenceburg 9, East Central 6 – Lawrenceburg senior Will Halbig connected on a 3 run walk-off home run to give the Tigers a 9-3 victory. Peyton Hartman pitched the final 3 innings and picked up the win on the mound. EC was led by Simon Williams with a hit, 2 RBI and a run scored.
Franklin County 3, Rushville 2 - On Senior Night, Franklin County's Alex Bischoff was outstanding on the mound. Bischoff pitched 9 innings of no-hit baseball while striking out a school record 20 batters. FC senior Tommy Ratz delivered a game winning, walk off double to right center in the bottom of the 12th inning.
Rising Sun 9, South Ripley 2 – Brayden Bush played great on both sides for Rising Sun. On the mound, he went 6 innings with 9 strikeouts, 1 hit, 6 walks, and 1 earned run to get the win. With the bat, he was 3-for-4 with a double, 2 RBI, and 2 runs scored. Landon Cole was 1-for-2 with a triple, 2 RBI, and 2 runs.
Southwestern 9, Milan 4
Jac-Cen-Del 6, Switzerland County 3 – JCD's Dustin Herbert had a hit and 3 RBI. TJ Menchhofer went 3-for-4 with an RBI.
SOFTBALL
South Dearborn 12, Lawrenceburg 0 - Alley Lunsford started on the mound for the Lady Knights, pitching 4 complete innings, giving up no runs and only 2 hits. Olivia Nagel completed the game for the Knights, giving up no runs as well and giving up no hits. Cameron Hoskins, Lexi Dittmer and Graci Cornett led the Lady Knights offensively, tacking on multiple hits and RBIs a piece. -SouthDearbornAthletics.com
East Central 6, Greensburg 1 – East Central starter Lindsay Henson had Greensburg locked down. She pitched all 7 innings with 5 strikeouts, 4 hits, no walks, and 1 earned run. Henson also collected two hits and an RBI at the plate. Megan Kincer had a hit with 2 RBI. Natalie Schnell hit a solo homer for EC.
Connersville 14, Batesville 4
Cambridge City Lincoln 11, Franklin County 8
Rising Sun 5, South Ripley 1 – Rising Sun captures the ORVC conference championship. Rising Sun had 10 hits to South Ripley's 6. Shineres starter Sydney Pitts went all 7 innings with 8 strikeouts, 6 hits, no walks, and one earned run. Pitts also led offensively with 2 hits including a home run for 2 RBI and 2 runs.
Jac-Cen-Del 4, Switzerland County 3
GIRLS TENNIS
Lawrenceburg 3, Southwestern 2 – Lawrenceburg's winners were #1 singles Grace Safaviyan 6-1, 7-5; #1 doubles Sheridan Houze & Calli Pope 6-1, 6-1; and #2 doubles Ryleigj Offutt & Ellie McAndrew 6-7, 7-6, 11-9.
Milan 4, South Dearborn 1