Milan softball's excellent postseason run came to an end in the 2A final four on Saturday. Find local varsity sports scores with one click, presented by Beacon Orthopaedics & Sports Medicine.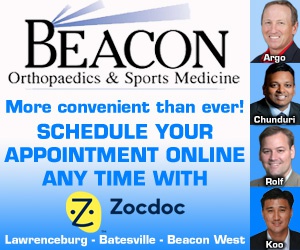 Please report missing scores to 888-537-9724 or email sports -at- eaglecountryonline.com.
BASEBALL
IHSAA 3A Regional at Evansville North
Semi-final - Silver Creek 6, Batesville 4 – Batesville's season ends with an 18-11 record and a sectional title.
IHSAA 2A Regional at Austin
Semi-final – Southridge 12, Switzerland County 1 – Switz's season ends with a sectional crown and a 12-11 record.
BOYS GOLF
IHSAA Sectional 27 at Greensburg
South Dearborn's Andrew Miller, East Central's Kyle Leising, and Batesville's Ross Harmeyer are going to the IHSAA Regionals. They were the top three individuals with low rounds to advance past the sectional without the benefit of their entire team advancing (only the top three teams advance). Miller and Leising each carded a 76 to tie for 4th, while Harmeyer played a round of 83. The top three teams at the Greensburg sectional included first-place Columbus North (309), Columbus East (313), and Greensburg (337). Find full meet results at http://www.ihsaa.org/Portals/0/boys%20sports/boys%20golf/2017-18/201718GreensburgSectional.pdf.
SOFTBALL
IHSAA 2A Semi-State at Forest Park
Elite Eight – Milan 11, Knightstown 1 – Milan starter Lexi Wert was nails. She pitched a 6.0 inning complete game with 8 strikeouts, 3 hits, and an unearned run. Jordan Healy, K Tuttle, Alexa Burton, and Abby Ferreira each had 2 RBI for the Indians. Milan advances to the 2A semi-state final against Speedway.
Final Four – Speedway 5, Milan 0 – Milan's fantastic season ends with an 18-12 record and a regional championship. Lexi Wert and Courtney Bruns had Milan's only two hits of the game.
Class of 2018 accomplishment's 1 Final 4
2 Regional Championships 3 Sectional Championships. 3 ORVC Championships. That proves that sweat on the field leads to Gold in the trophy case you have made us proud

— Milan Softball (@MilanSoftball1) June 3, 2018