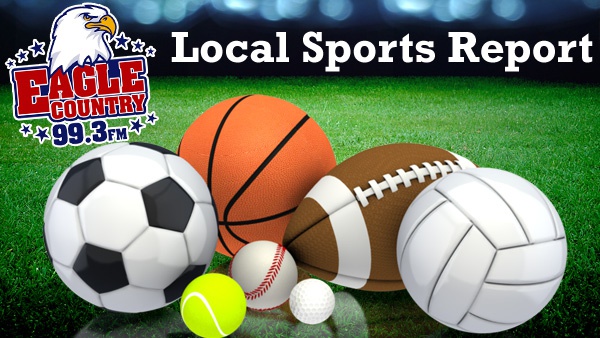 Local teams were in action on the court, on the mat, and in the pool Tuesday.
Please report missing scores and statistics to 888-537-9724 or email sports -at- eaglecountryonline.com.
BOYS BASKETBALL
Oldenburg Academy 44, South Ripley 24 – Oldenburg's Kris Hetzer led with 16 points, 6 steals, and 3 rebounds. Teammate Andrew Oesterling added 13 points and 3 steals.
GIRLS BASKETBALL
Lawrenceburg 66, Jac-Cen-Del 56 – Juliana Kemper scored 18 points, grabbed 8 rebounds, and made 4 assists for Lawrenceburg. Teammate Justice Chambers added 16 points and 5 rebounds. JCD's Mariah Day impressed with 26 points while Paige Ledford helped with 14.
Milan 44, Rising Sun 26
SWIMMING & DIVING
AquaTrojans win at Connersville
East Central's boys and girls swim teams both swam to wins at Connersville on Tuesday. The EC boys won 95-85 while the Lady AquaTrojans won 113-70.
East Central won five of the six relay races. EC's individual event winners included Jacob Weber (200 Free), Ethen Witte (200 IM), Kyra Hall (50 Free, 100 Fly), Jackson Ketcham (50 Free, 100 Breast), Brooklynn Gill (1 meter diving), Mackenzie Schantz (100 Free), Olivia Nixon (500 Free), Nick Weber (500 Free), and Ray Krider (100 Back).
Batesville, Lawrenceburg split at tri-meet
A Tuesday tri-meet included Lawrenceburg, South Dearborn and Batesville. Lawrenceburg boys won with 143 points, with Batesville second at 106 and South Dearborn third with 31. In the girls team standings, it was Batesville on top with 133, Lawrenceburg second with 107, and South Dearborn last with 22.
Batesville event winners include Girls 400 Free Relay (Lexi Knight, Nicole McCool, Carmen Birchfield, Courtney Edwards), Boys Medley Relay (Jonah Ruszczewski, Bret Carr, Pablo David, Jackson McCool), Boys 200 IM Pablo David, Boys 50 Free Jackson McCool, Boys 100 Fly Pablo David, Boys 100 Free Micah Tucker, Boys 500 Free Jackson McCool, Boys 200 Free Relay (Micah Tucker, Nico Ortiz, Bret Carr, Pablo David), Boys 100 Back Jonah Ruszczewski, Boys 100 Breast Bret Carr, and boys 400 Free Relay (Micah Tucker, Connor Bellamy, Jonah Ruszczewski, Jackson McCool).
Holly Kraemer led the way for South Dearborn with first place finishes in the 100 Butterfly and and 100 Backstroke.
WRESTLING
East Central and Lawrenceburg met on the mat Tuesday, with the Trojans winning the team score 48-30.
Batesville defeated Greensburg in a dual meet 48-15 on Tuesday.