East Central girls golf has gotten off to a good start this fledgling season. Find local varsity sports scores with one click, presented by Beacon Orthopaedics & Sports Medicine.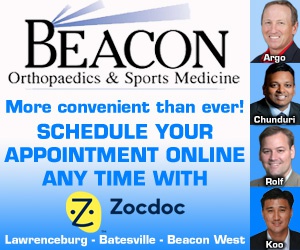 Please report missing scores to 888-537-9724 or email sports -at- eaglecountryonline.com.
GIRLS GOLF
East Central's Lady Trojans have gotten the girls golf season into full swing. The team hosted Oldenburg Academy at Grand Oak Golf Club in West Harrison on Monday, August 6. EC won with a team score of 212. Meet medalist Katelyn Whitaker birdied the par four hole #1 en route to a round of 45. Molly Robinson birdied par three hole #4 as she carded a 54.
EC returned to the links on Saturday, August 4 at the Greensburg Invitational at the Greensburg Country Club. The team score of 416 was highlighted by Katelyn Whitaker's card of 94 shots. Charson McCory played a round of 102.
They opened the season at the Union County invitational at the Liberty Country Club on Thursday, August 2, coming in seventh place with a score of 429. Katelyn Whitaker was EC's best performer with a round of 87, good for seventh overall.