Rivals South Dearborn and East Central met on the pitch Thursday. Find local varsity sports scores with one click, presented by Beacon Orthopaedics & Sports Medicine.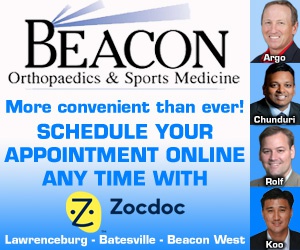 Please report missing scores to 888-537-9724 or email sports -at- eaglecountryonline.com.
BOYS SOCCER
East Central 4, South Dearborn 0 – Brady Spangler led East Central with 2 goals. Jared Tiemann and Trey Clinger also found the back of the net for the Trojans. Assists were made by Luke Hornbach, Austin Arnult, Peyton Wilhelm, and Eric Puterbaugh.
Lawrenceburg 2, Batesville 1 – Lawrenceburg bested Batesville with penalty kicks in double overtime.
Franklin County 0, Richmond 0 - tie
Rising Sun 5, Switzerland County 0 – Rising Sun dominated with two goals and an assist a piece by Jake Bovard and Landon Cole. Zac Brokaw also kicked a goal while Kendall Montgomery had an assist. Goalkeeper Jordan Parsons made two saves for the Shiners.
BOYS TENNIS
Batesville 5, South Dearborn 0
Greensburg 4, East Central 1 – This was EC's first loss of the season, dropping them to 6-1.
GIRLS GOLF
A dual match between South Dearborn and Franklin County went the way of the Wildcats at Dearborn Country Club on Thursday. FC won 183-287. Franklin County junior Maggie Brack was the medalist with a round of 42. Gracie Graf posted a 45.
GIRLS SOCCER
East Central 4, South Dearborn 0 – East Central out-shot South Dearborn 36-7. Josie Mattlin scored twice for EC. Hailey Fitz and Taylor Hall each had a goal for the Trojans, too. Goalkeeper Mary Brewington had 3 saves.
Lawrenceburg 3, Taylor 0 – Lawrenceburg's goals were recorded by Ryleigh Offutt, Lexi Knight, and Hannah Brayton. Offutt also made two assists. Jenna Farmer added one assist. Erin Hill made three saves in goal.
Batesville 12, Greensburg 0 – The Bulldogs had an astonishing 44 shots. Batesville was led by Georgia Gratz's 4 goals. Carlie Wener added three goals of her own. Lauren Gutzwiller scored twice. More BHS goals were netted by Ashlyn Czerniak, Hailey Mohr, and Chloe Saler. Keeper Ellie Waechter made one save.
Oldenburg Academy 9, Rushville 1
VOLLEYBALL
Lawrenceburg 3, Oldenburg Academy 0 – 25-16, 25-10, 25-12
Rushville 3, South Dearborn 2 – 22-25, 25-18, 25-22, 20-25, 15-13 – Mackenzie Casebolt led South Dearborn with 26 digs, 2 kills and an ace. Jaelyn Lows and Emily Elliott each posted 8 kills.
East Central 3, Batesville 0 – 25-22, 25-13, 25-8 – East Central improved to 7-0 on the season. Macy Prickel and Hattie Westerfeld each had 4 kills for Batesville. Abigail Westerfeld added 7 digs.
North Decatur 3, Franklin County 0 – 25-17, 25-22, 25-15 – Franklin County's Meredith Bohman led the team with 8 kills, 1 dig, 2 blocks and great serves. Megan Getz had 11 assists, 3 kills, 2 digs and 2 ace serves. Jalynn Rogers had 10 digs and her serves were great.
Waldron 3, Jac-Cen-Del 0 – 25-19, 25-16, 25-14