Friday marked the opening of the 2020 high school football season.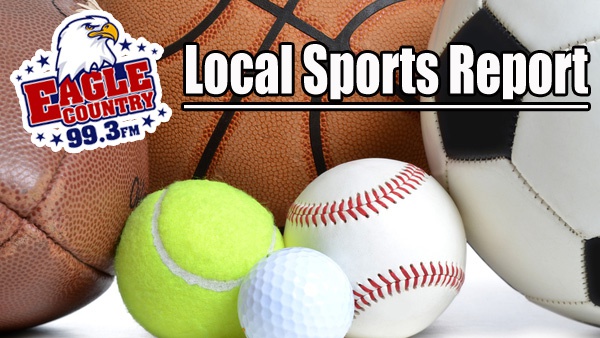 To report sports scores, call 812-537-0944 or email news@eaglecountryonline.com.
FRIDAY, AUGUST 21
FOOTBALL
East Central 34, Lawrenceburg 7 (Eagle Country 99.3 Feature Game) - The Trojans capitalized on four Tigers turnovers on their way to their first win of the season. Lawrenceburg fumbled the opening kickoff, setting up an EC score on an 18-yard touchdown pass from Ryan Bond to A.J. Messmore. Lawrenceburg would tie the game on a 19-yard TD run from Garret Yoon. EC took over in the third quarter, getting TD's from Cameron Hutchinson, Bryce Hall and Cole Wheat. Samuel Ringer added a defensive touchdown on a 35-yard interception return. The Tigers out-gained the Trojans 304 yards to 275, and had 18 first downs to EC's 9.
Key individual stats:
Ryan Bond (EC): 5-11, 54 yards, TD
A.J. Messmore (EC): 1-1, 43 yards, TD; 6 rush, 64 yards; 1 reception, 18 yards, TD
Bryce Hall (EC): 5 rush, 64 yards, TD
Cole Wheat (EC): 1 rec, 43 yards, TD
Garrett Yoon (LB): 16-32, 157 yards, Int; 18 rush, 82 yards, TD
Adam Burd (LB): 16 rush, 56 yards; 6 receptions, 37 yards
South Dearborn 36, Seymour 21
Milan 48, Rushville 26 - Milan QB Peyton Wert led the way going 11-14 for 200 yards and three touchdowns, all to Adam Norman (7 receptions, 152 yards). Wert added another 148 yards rushing and one TD. Logan Reed carried the ball 15 times for 155 yards and two touchdowns as the Indians racked up 513 yards of total offense. Defensively, Wert and Norman recorded interceptions.
Oldenburg Academy 42, Rock Creek Academy 6
Indian Creek 40, Batesville 13
Franklin County 40, Perry Meridian 14
Switzerland County 7, Noblesville HomeSchool 2
VOLLEYBALL
Jac-Cen-Del 3, South Ripley 1 (25-19, 22-25, 25-22, 25-22) - Brionna Linkel had 24 assists for the Lady Raiders. Rachel Meyer added 11 kills.
SATURDAY, AUGUST 22
BOYS SOCCER
Jennings County 3, South Ripley 0
South Ripley 8, Salem 1
Greenwood Christian Academy 3, Milan 2
Shawe Memorial 4, Milan 1
East Central 1, Greenfield-Central 1 (5-4 in PENS) - J.T. Roden scored the lone goal in regulation. EC picked up the win 5-4 in a penalty shootout.
Rising Sun 9, Trinity Lutheran 0 - Landon Cole and Kendall Montgomery each recorded a hat trick. Brogan Radcliff, Ashton McCarty and Jordan Parsons also scored for the Shiners.
Connersville 1, Lawrenceburg 0
Batesville 15, Franklin County 0
GIRLS SOCCER
Indianapolis Cardinal Ritter 2, Oldenburg Academy 1
East Central 1, Badin 0
CROSS COUNTRY
The East Central Trojans began their Cross Country season this past Saturday. Traditionally the Trojans have raced in Richmond and a very large invitational. However, due to Covid-19 the invitational was canceled. Connersville High School graciously stepped up and allowed six teams to race on their course, so the athletes would have an opportunity to run. All the runners reported to the starting line in face masks and the fans, as well, on the side lines were all masked up.
The Lady Trojans took first place and the boy's team second, following Connersville. In the girl's race, Rachel Campbell, of East Central and a sophomore, led the first 800 with great strength, just prior to the mile she was passed by Marissa Cates of Northeastern high school. Rachel never regained the lead however, these two ladies continued to lead the race finishing just about a minute ahead of the rest of the runners.
East Central placed 6th with Faith Henderson, 7th with Kendall Pflum, 9th with Jessica Bender, and 10th with Hannah Doan. All of these scoring Trojan runners were in the top 10! Jocelyn Inderhees (14) and Jadda Hicks (19) also ran really well as the 6th and 7th runners. The girls total team score was 23. Haggerstown came in next with 43 and Franklin County took third with 63. Hannah and Rachel, the only returning runners, from last year's season, both ran faster times on this course than they did at the opening race one year previous. It looks like their summer training is paying off. With a strong healthy team, the Trojans are sowing a lot of promise!
On the Boys side we also had some great racing. Michael Schwebach led the Trojans placing 4th overall. Griffin Wener (5), Owen Hagen (10), Reilly Small (15) and Parker Fleming (16) rounded out the top scoring Trojans. Logan Hicks and Nico DiMeglio were the 6th and 7th runners for the team. Several of the boys had tremendous finishes passing runners in the chute to the finish line. Although the boys ran well, they got beat by the Connersville team 47 to 50. Placing 3rd was Northeastern, 4th-Haggerstown, 5th- Franklin County and 6th- Oldenburg.
The Trojans will be racing on Wednesday at Lawrenceburg.
VOLLEYBALL
East Central 3, Southport 1 - (16-25, 25-20, 25-17, 30-28) - Hope Fox had 21 digs and 13 kills for the Lady Trojans. Jessie Stenger added 14 kills and Allison Huismann and Addy Cleary combined for 35 assists in the EC win.