South Ripley's girls cross country team won the Early Bird Invitational on Monday. Find local varsity sports scores with one click, presented by Beacon Orthopaedics & Sports Medicine.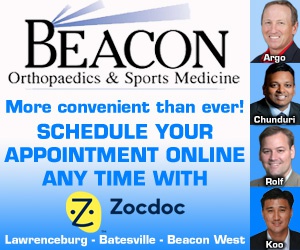 Please report missing scores to 888-537-9724 or email sports -at- eaglecountryonline.com.
BOYS TENNIS
Batesville 5, Madison 0
CROSS COUNTRY
South Ripley's girls team won the Early Bird Invitational on Monday.
GIRLS GOLF
The East Central Girls Golf Team competed at the Greensburg Country Club on Monday. Greensburg won, 174 to 210. Individual contributors and scores from EC are Katelyn Whitaker 47, Molly Robison 52, Charson McCory 55, Alli Beard 55, Hannah Weber 57, Natalie Schnell 63, Carley Knosp 67 and Bianca Fliehman 68.
GIRLS SOCCER
East Central 3, Franklin County 0 – EC's McKenzie Brown put in two goals as Maggie Ravenna Added a third for the Trojans. Goalkeeper Jessica Shipman had one save on Franklin County's lone shot on goal.
VOLLEYBALL
East Central 3, Greensburg 0 – 25-11, 28-26, 25-16
Southwestern 3, South Dearborn 0 – 25-19, 25-23, 25-16 – South Dearborn's Allyson Kunkel made 7 kills. Grace Quinlan had 5 blocks. Sydney Brandt led SD with 10 digs while Hannah Halbig made 9 assists.
Batesville 3, South Ripley 0 – 25-17, 25-18, 25-12 – Batesville's Mary Prickel and Abigail Westerfeld each had 7 kills. Prickel also picked up 6 aces and 6 digs. Kylie Laker racked up 28 assists.
Jac-Cen-Del 3, Edinburgh 2 – 17-25, 25-18, 15-25, 25-20, 15-5