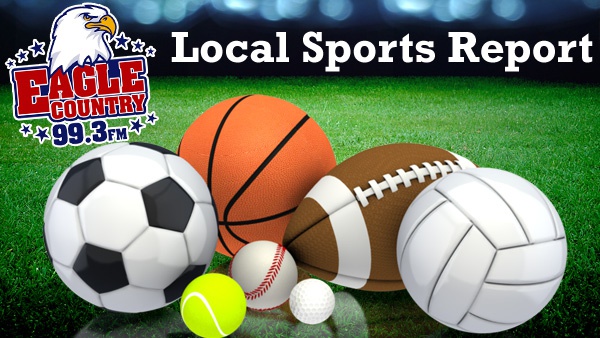 East Central slugger Lindsay Henson blasted two home runs in a Trojans softball win Monday.
Please report missing scores and statistics to 888-537-9724 or email sports -at- eaglecountryonline.com.
BASEBALL
Lawrenceburg 13, South Dearborn 3
Batesville 7, East Central 1 – Trey Heidlage was 2-for-4 with a double, 3 RBI, and 2 runs scored in the Batesville victory. Sam Voegele had two hits and 2 RBI. BHS starter Lane Oesterling went all 7.0 innings with 6 Ks, 4 hits, no earned runs and no walks.
Connersville 5, Franklin County 2
Rising Sun 4, Southwestern 0 – Rising Sun's Brayden Bush was dominant on the mound, racking up 12 Ks while only allowing one hit and 4 walks in 6.0 innings. Four different players had an RBI for Rising Sun: Jonathan Jimenez, Payton Bell, Bush and Max Bowne.
South Ripley 11, Switzerland County 3 – Bryer Franklin did it all for South Ripley. He pitched 7.0 innings with 8 Ks, 10 hits, a walk, and no earned runs for the win. At the plate, he was 2-for-2 with 4 RBI and a walk.
Jac-Cen-Del 10, Shawe Memorial 2 – Dylan Swinney, Damon Hughes, and Dustin Herbert each tagged 2 RBI for JCD. Miles McAdams went 3-for-3 with an RBI and 2 runs. Starter Nate Scroggins was credited with the win with 10 strikeouts, 3 hits, 3 walks, and 2 earned runs in 5.2 innings of work.
SOFTBALL
Franklin County 9, Lawrenceburg 2 - Kay Kay Ferman picked up the win in the circle for the Wildcats. She pitched all 7.0 innings, allowing 7 hits, one earned run, 3 walks and 7 strikeouts. The Franklin County offense was led by Kloe Bolos and Camryn Brewer who each had three hits and an RBI.
East Central 10, Batesville 0 – EC's Lindsay Henson blasted two home runs to collect 5 RBI and 2 runs scored. Rachel Rack added a two-run homer for the Trojans. In the circle, EC starter Megan Kincer was masterful with just one hit and three walks allowed, while striking out 7, in 5.0 innings of work for the win.
Clean sweep for the Trojans tonight with varsity winning 10-0 in five innings and JV winning 11-2! pic.twitter.com/goBIhtJ9jf

— EC Trojan Softball (@ECTrojanSoftbal) April 9, 2019
Rising Sun 8, Southwestern 0 – The Shiners' Cora Poling had a double, 3 RBI, and a run scored. Tyrrah Miller and Abby Wallace each batted in a run. Pitcher Sydney Pitts was great with 9 strikeouts, 6 hits, and no walks over 7.0 shutout innings.
Switzerland County 9, South Ripley 0 – South Ripley's Mady Tompkins was 2-for-3 and Halee Smith was 1-for-2.
South Ripley (3-1) visits Jac-Cen-Del on Wednesday
Jac-Cen-Del 22, Shawe Memorial 1 – Jac-Cen-Del rapped 18 hits and drew four walks in the runaway win. Nadya Hildebrand was 2-for-2 with a double, 4 RBI, and 2 runs. Shelby Growth added 3 RBI and 2 runs with 2 hits. Aundrea Cullen was the complete game pitcher for JCD, racking up 10 strikeouts and surrendering just a hit and 4 walks.