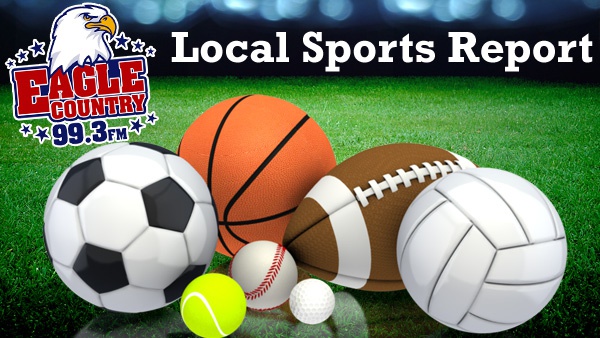 South Ripley's Maddie Tompkins pitched a perfect game Saturday.
Please report missing scores and statistics to 888-537-9724 or email sports -at- eaglecountryonline.com.
FRIDAY, APRIL 26
SOFTBALL
East Central 11, Milan 1 – Erin Widener had Milan's only RBI.
Rising Sun 11, Milan 1 – Sydney Bostic had a hit and a sac fly for an RBI for the Shiners. Abby Wallace added a double for 2 RBI. Cora Poling collected 2 hits and 2 RBI. Sydney Pitts earned the win for the Shiners, pitching 5.0 innings with 6 Ks, 3 hits, no walks, and one unearned run.
TRACK & FIELD
The rain-postponed East Central Track & Field Invitational was held Friday in St. Leon, with the EC boys and girls each winning the team titles. EC girls won with 205.5 points, Franklin County second with 117, and Batesville third with 107. EC boys had 201.5 points, Batesville 128.83 points, and Franklin County in third with 101. South Ripley's Megan Cole set a new meet record in the girls 3200 meter run with a time of 11:16.29, and also won the 1600 meter run.
It's tradition to honor the MVP of the meet with a plaque. This year we were fortunate enough to have both male and female MVPs on our team! Congratulations to senior Alex Hornbach and sophomore Ellie Lengerich! @ECTrojanSports @CoachMeganEC pic.twitter.com/rRT1N3rOeG

— Ashley Andres (@ECentralTrack) April 28, 2019
SATURDAY, APRIL 27
BASEBALL
South Dearborn 9, Madison 1 - At bat for the Knights was Tobie Teke with a double, a triple and 3 RBIs, Jace Leonard with a double, 2 singles and 3 RBIs, Adam Dixon had 2 singles with 2 RBIs, Tyler Sloan, Grant McLane and Reese Willoughby each added a single. Pitching 6 innings for the Knights and earning the win was Reese Willoughby with 10 strikeouts and 7 hits. -SouthDearbornAthletics.com
South Dearborn 10, Madison 0 - Batting for the Knights were Tobie Teke with a double, triple and 2 RBIs, Ethan Getz with 2 singles and an RBI, Jace Leonard adding 2 singles and 2 RBIs, Grant McLane hit a double with 2 RBIs, Marcus Raab added a single and Jake Black produced an RBI. On the mound and earning the win was Grant McLane pitching 4 innings and allowing only 2 hits. -SouthDearbornAthletics.com
Batesville 6, North Decatur 4 – Trey Heidlage had a double and a run scored for Batesville. Trey Peters, Calvin Sherwood, Caleb Raab and Sam Voegele each had an RBI.
BOYS GOLF
South Dearborn competed in their first golf invitational in several years at the Winchester Golf Club. Thirteen teams battled for the top spot. SD placed 6th overall. Eli Hoffman received 3rd place medalist out of 64 golfers with a score of 75. Drew Miller shot 80, Austin Thies 92, and Nathan Cantrell 93.
SOFTBALL
East Central 4, Taylor (Ohio) 1 – EC's Lindsay Henson pitched a 7.0-inning complete game with 8 strikeouts, a hit, and a walk. Teammate Paige Wittich had a hit and an RBI.
South Ripley 6, Oldenburg Academy 0 – Maddie Tompkins threw a perfect game for South Ripley. She struck out 13 hitters in 7.0 innings. Tompkins also set a new South Ripley school record for strikeouts in a season with 91. Alexa Heidt had a double, a triple, and 2 RBI for South Ripley.
South Ripley 12, Oldenburg Academy 5