South Ripley's Luke Welch and Franklin County's Kamryn McCool each tossed no-hitters on Wednesday. Find local varsity sports scores with one click, presented by Beacon Orthopaedics & Sports Medicine.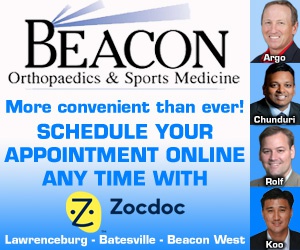 Please report missing scores to 888-537-9724 or email sports -at- eaglecountryonline.com.
BASEBALL
Lawrenceburg 3, Union County 2 – Lawrenceburg scored the winning run in the bottom of the 8th inning.
Rushville 5, East Central 4
Rising Sun 14, Switzerland County 1 – This game was the Brent Turner Show. Turner pitched a complete game, giving up just 2 hits, 4 walks, and a run while striking out 9. At the plate, Turner was 2-for-5 with a home run, 6 RBI and a run scored.
South Ripley 5, Madison 0 – South Ripley's Luke Welch pitched a 7.0 inning no-hitter. He struck out a whopping 15 Madison batters. South Ripley is now 6-1.
Congrats @lukewelch40 for a complete game shutout, no hitter and 15 strikeouts! pic.twitter.com/ZVbJRg4Eo4

— SouthRipleyBaseball (@CoachSFranklin) April 25, 2018
Southwestern 5, Jac-Cen-Del 2 – Connor Toops and Dustin Herbert each knocked in a run for Jac-Cen-Del.
BOYS GOLF
Greensburg defeated East Central and Rushville in a tri-meet. Scoring: Greensburg 179, East Central 194, Rushville 212.
GIRLS TENNIS
East Central 5, Milan 0
SOFTBALL
East Central 10, Lawrenceburg 0
Franklin County 2, Greensburg 0 – Kamryn McCool dominated Greensburg to earn a no-hitter with one walk the only blemish on her line. She struck out 12 batters. It is the fifth no-hitter of McCool's career at Franklin County.
Rising Sun 8, Switzerland County 2 – Shiners pitcher Sydney Pitts limited Switz to 5 hits and a walk while amassing 10 strikeouts over 7.0 innings to get the victory. Sydeney Bostic and Lindsay Montgomery each had 2 RBI for Rising Sun.
Jac-Cen-Del 8, Southwestern 0 – JCD's Emily Adams was 3-for-4 with 2 doubles, 2 RBI, and 2 runs. Morgen Carroll pitched a one-hitter over 7.0 innings with 12 Ks and no walks.