East Central, South Dearborn, and Batesville were baseball game winners Monday. Find local varsity sports scores with one click, presented by Beacon Orthopaedics & Sports Medicine.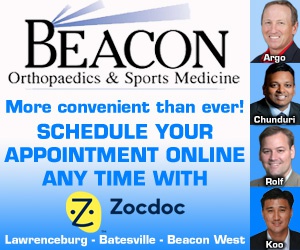 Please report missing scores to 888-537-9724 or email sports -at- eaglecountryonline.com.
BASEBALL
East Central 17, Richmond 0
South Dearborn 6, Rushville 4 – SD's Tristan Rinehart was 1-for-2 with 2 RBI, a double, and 2 walks. Knights starter Derek Williams was the winning pitcher, going 2.0 innings with 2 strikeouts and one earned run.
Batesville 14, Connersville 1 – 5 innings – Batesville only had three hits, but their hitters drew 10 walks o run away with the win. Starter Lane Oesterling got the win after pitching 4.0 innings with 3 hits, 1 earned run, 6 strikeouts, and 2 walks.
BOYS TENNIS
East Central 5, Lawrenceburg 0