Jac-Cen-Del's Dustin Herbert collect 8 RBI - including 6 in one inning - in an Eagles win Tuesday. Find local varsity sports scores with one click, presented by Beacon Orthopaedics & Sports Medicine.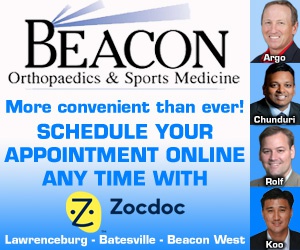 Please report missing scores to 888-537-9724 or email sports -at- eaglecountryonline.com.
BASEBALL
Franklin County 4, Batesville 1 – Franklin County starter Ben Krider earned the complete game victory by going 7.0 innings with 9 strikeouts and just 4 hits allowed. Fellow Wildcat Augustus Runyon was 2-for-2 with a double and 2 RBI, while Brennan Meyers went 3-for-4 with a double, triple, and a run scored. Batesville's lone RBI was off the bat of Caleb Raab.
Jac-Cen-Del 17, Waldron 3 – JCD pounded out 11 hits. Dustin Herbert had a monster performance going 3-for-4 with a home run, a double, 8 RBI and 2 runs scored. Six of his RBI came in the same inning.
BOYS GOLF
South Dearborn 189, Rising Sun 221 - The Knights were led by medalist Drew Miller, who shot 41. Mason Masterpolo, Brady McMann and Austin Thies also contributed with a 48, 49 and 51 respectively. Sam Markland recorded the low score for Rising Sun with a 45.
GIRLS TENNIS
Franklin County 5, Lawrenceburg 0 - #1 Singles Lilli Stewart beat Averi McMullen 6-2, 6-4. #2 Singles Megan Routh beat Gracie Safaviyan 6-2, 6-0. #3 Singles Lauren Klei beat Lauren Karasteter 6-0, 6-2. #1 Doubles Grace Moster and Katarina Sacksteder beat Destiny Golden and Sheridan Houze 6-2, 6-0. #2 Doubles Maggie Brack and Taylor McCreary beat Jasmyn Blackburn and Calli Pope 6-2, 6-0.
East Central 3, Beechwood (Ky.) 2
Southwestern 3, South Dearborn 2
SOFTBALL
Lawrenceburg 3, Batesville 2 – Lawrenceburg came back with two runs in the bottom of the 7th to pull out the win.
East Central 7, Franklin County 0
Oldenburg Academy 5, Jac-Cen-Del 4