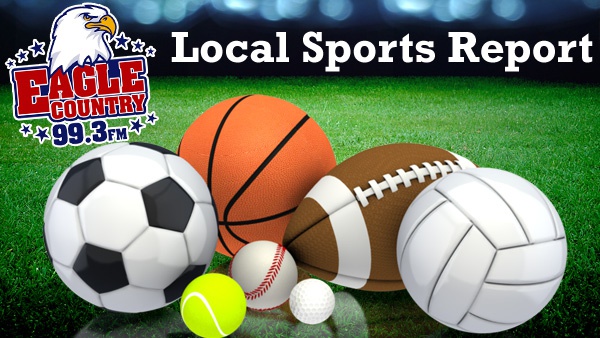 The East Central girls track & field team won the Harrison Invitational on Saturday before prom.
Please report missing scores and statistics to 888-537-9724 or email sports -at- eaglecountryonline.com.
FRIDAY, APRIL 12
BASEBALL
Lawrenceburg 11, Jac-Cen-Del 1 – Lawrenceburg tallied 12 hits. Mitch McCool had 2 RBI for the Tigers. Will Halbig pitched all 5.0 innings with 2 Ks, 2 walks, 3 hits, and no earned runs allowed.
Doc Morris Scholarship Tournament
Beechwood 9, Batesville 5 – Batesville's Calvin Sherwood had a home run, 2 RBI, and 2 runs.
Rising Sun 7, Milan 2 – Rising Sun starter Steven Jimenez was great going 6.0 innings with 11 Ks, 5 hits, 2 walks, and no earned runs. Shiners slugger Max Bowne posted 2 hits with 3 RBI and a walk.
Switzerland County 11, Shawe Memorial 1
SOFTBALL
South Ripley 4, Lawrenceburg 3 – South Ripley's Ellie Waldron was 1-for-4 with a bases clearing double and 2 RBI. Halee Smith posted a couple runs. Hailey Brown collected two hits. The Raiders' Mady Tompkins was the winning pitcher, going 7.0 innings with 3 runs, 2 earned runs, 5 hits, 16 strikeouts and 2 walks.
Greensburg 11, Jac-Cen-Del 1 – JCD's Emily Adams recorded 2 hits and scored the team's only run.
Switzerland County 17, Shawe Memorial 2
SATURDAY, APRIL 13
BASEBALL
Hauser 14, Lawrenceburg 12 – Lawrenceburg lost a slugfest in which each team had 11 hits. The Tigers' Mitch McCool had a hit with 3 RBI and a run scored. Ethan Weimer, Will Halbig, and Logan Tingle each had 2 RBI for LHS.
Lawrenceburg 12, Hauser 2
Bloomington South 3, East Central 1 – EC's Drew Cannon started and gave up only a hit, and one earned run while striking out 4 in taking the hard-luck loss. Logan Huisman knocked in EC's only run with his only hit of the game.
Bloomington South 8, East Central 3 – Reid Cleary had a double and 2 RBI for the Trojans.
Doc Morris Scholarship Tournament
Batesville 4, Ryle 1 – Batesville starter Lane Oesterling pitched a 7.0-inning gem with 8 Ks, a walk, 5 hits, and 1 earned run. Quinn Werner had a home run, 2 RBI and 2 runs scored.
South Oldham 11, Batesville 0 – Batesville could only muster 3 hits in the loss.
Union County 14, Franklin County 8 – Kloe Bolos posted a single, double, 2 RBI, and 2 runs for FC.
Franklin County 7, Union County 4 – FC's Kloe Bolos has 2 singles, an RBI, a run, a walk, and 2 steals. Hadlee Hornsby added 2 hits and an RBI.
Rising Sun 3, Borden 1
Rising Sun 11, Austin 1
South Ripley 10, North Decatur 0 – South Ripley pitcher Aaron Greiwe was masterful over 6.0 innings with 5 strikeouts, 4 hits, a walk, and no runs. Greiwe also added a hit and 2 RBI at the plate. Trenton Burford had two hits and 2 RBI.
Connersville 12, South Ripley 2 – Aaron Greiwe had a hit and a run knocked in for South Ripley.
Jac-Cen-Del 14, Morristown 1 – The JCD bats came alive for 13 hits. Morgan Sutton went 3-for-3 with an RBI, 4 runs scored, and a walk. Dustin Herbert added 2 hits including a double, 2 RBI, and a run. Starter James Burford got the win with 6 strikeouts, 6 walks, 2 hits, and no earned runs over 5.0 innings.
Trinity Lutheran Invitational
Jennings County 11, Switzerland County 1
Eastern 12, Switzerland County 3
Oldenburg Academy 6, Scecina Memorial 1
Scecina Memorial 11, Oldenburg Academy 8
SOFTBALL
Switzerland County 7, Lawrenceburg 2
Switzerland County 6, Lawrenceburg 4
Union County 14, Franklin County 8
Union County 7, Franklin County 4
Providence 17, Jac-Cen-Del 10
Jac-Cen-Del 18, Providence 12
Madison 12, Oldenburg Academy 3
TRACK & FIELD

Harrison Invitational
The East Central girls won the 17-team Harrison Invitational on Saturday. EC girls tallied 131 points, blowing away the competition – Ursuline Academy was second with just 94 points. LaSalle won the boys division, with EC placing third. Harrison boys were 13th and girls were 10th. Taylor boys were 15th and girls were 13th. Find full meet results at http://live.finishtiming.com/index.html#/results/meet/201900178/score#teamScore-G-0.
Congratulations to the varsity girls on winning the Harrison Invitational! They scored 131 points. 2nd place was Ursuline Academy with 94. 1st out of 17 teams, 16 from Ohio! I am so proud of each and every one of these ladies! Go celebrate at prom💃 @ECTrojanSports @CoachMeganEC pic.twitter.com/mQTjSVhX0I

— Ashley Andres (@ECentralTrack) April 13, 2019