Batesville softball scored a win over Rising Sun on Tuesday. Find local varsity sports scores with one click, presented by Beacon Orthopaedics & Sports Medicine.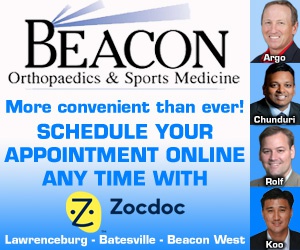 Please report missing scores to 888-537-9724 or email sports -at- eaglecountryonline.com.
BASEBALL
New Palestine 11, Batesville 7 – Batesville lost the slugfest, but Lane Oesterling had a hit and 2 RBI. Trey Heidlage added an RBI and run scored on 2-for-3 hitting. It is Batesville's first loss of the season.
SOFTBALL
Batesville 9, Rising Sun 6 – Rising Sun's Kassidy Romans and Lindsay Montgomery each collected a pair of RBI and a run scored in the loss.
GIRLS TENNIS
Batesville 4, East Central 1