Batesville High School graduate Shelby Rupp had a double-double in the NCAA D-III Championship Game on Saturday.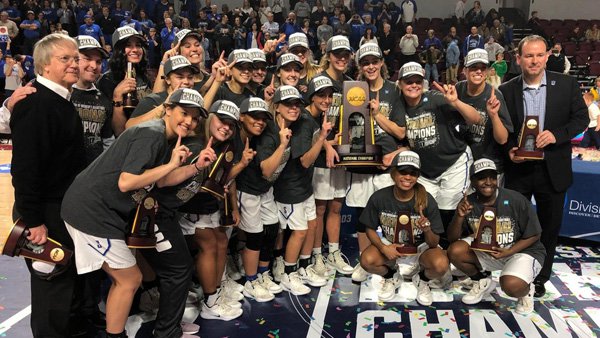 The Thomas More University women's basketball team won the NCAA Division III national championship game on Saturday, March 16. Photo by Thomas More University Athletics.
(Crestview Hills, Ky.) – The Thomas More University women's basketball team, consisting mostly of players from the tri-state, won the 2019 NCAA Division III Championship on Saturday.
The Saints' 81-67 victory over Bowdoin College in the championship game at Roanoke College in Salem, Virginia secured the program's second national title in just the past three seasons. It also completed an undefeated season at 33-0.
Batesville High School graduate Shelby Rupp, of Milan, led the Saints in the title game with a double-double of 17 points and 12 rebounds, plus four assists. Rupp, a senior guard for TMU, was named the NCAA Championship's All-Tournament Team.
"We wanted to win so bad for each other. I just wanted to win. It was awesome just to do that," Rupp said after the game.
81-67 final #d3hoops Saints win it all for the third time in five years pic.twitter.com/QCE0CWeLCJ

— Adam Turer (@adamturer) March 17, 2019
Fellow senior guard Madison Temple, a graduate of Anderson High School on Cincinnati's east side, scored 17 points, had seven rebounds, four assists, and four steals. She was named the championship's Most Outstanding Player.
Boone County High School grad Kaela Saner led the Saints in scoring with 20 points.
Head coach Jeff Hans credited his players for being great role models who exemplify the term "student athlete."
"There's a lot of credit. There's a lot of time put into it. And we're very thankful," said Hans.
Other area players on the Thomas More Saints roster during their championship run included freshman Lucy Carrigan of Rising Sun High School, Kylie Anderson of Boone County High School, Asyah Mitchell of Cooper High School, Megan Buckner of Simon Kenton High School, Caroline Buddenberg of Dixie Heights High School, and Allison Gribben of Notre Dame Academy.
TMU had won three D-III national titles in the past five seasons, but the NCAA later vacated the team's 2015 championship.