Parris spent just over 11 minutes on the mat over four matches.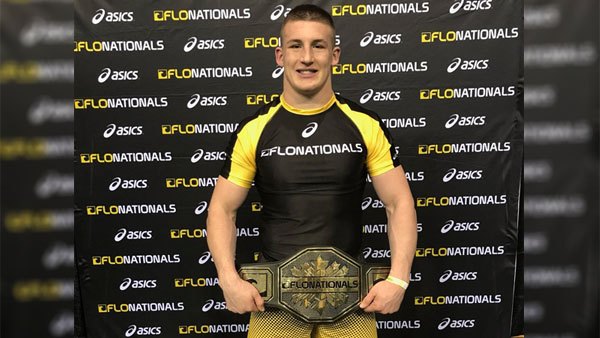 Mason Parris makes it back-to-back FloNational Championships. Photo via FloWrestling.
(Lawrenceburg, Ind.) – Chalk up another wrestling championship for Mason Parris.
The Lawrenceburg High School senior is a three-time IHSAA Wrestling State Champion, and he is now a two-time FloNationals Wrestling Champion.
On April 6-8 at the Kovalchik Center in Indiana, Pennsylvania, Parris secured his second-straight FloNational Championship by defeating Michael Wolfgram, of OTHR, in the final of the 285-pound division.
And still!

Mason Parris defends his FloNationals title with a first period fall. pic.twitter.com/JNyLDaDhlS

— FloWrestling (@FloWrestling) April 7, 2018
Parris made quick work of his opponents this year, spending just 11:22 on the mat over four matches.
Last year, Parris was just as dominant breezing through the 220-pound weight class.
Parris is now set to compete at the Dream Team Classic in Brownsburg, Indiana. The event will feature many of the top senior wrestlers in the county in a dual meet, matching up an assortment of wrestlers that will represent the United States versus the top wrestlers from the host state of Indiana.
At the Dream Classic, Parris will face perhaps his toughest competition to date when he goes up against four-time Michigan State Champion Brandon Whitman.
Tickets to the Dream Classic are $10 for adults and $5 for students and can be purchased at the door. The event will be held on April 14 at 6:00 p.m. at Brownsburg High School.